Quick Dish NY: NEW MONEY Comedy Show 5.31 at Halyards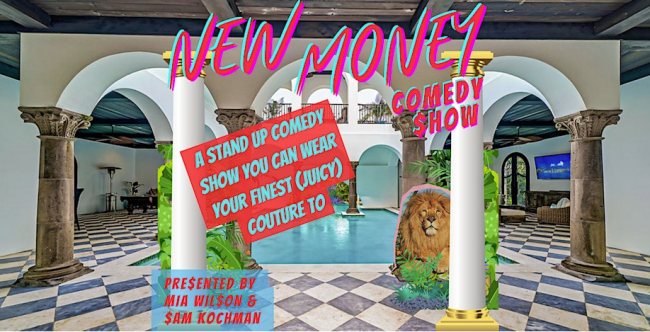 I harken back to an old Buzzfeed article comparing New Money to Old Money types. Qualities of the NEW MONEY rich included buying a big house in a nice neighborhood, driving a very flashy car, boasting about one's purchases, wearing flashy couture and treating the staff poorly. How very Great Gatsby of them! TOMORROW, the NEW MONEY Comedy Show brings a whole different meaning to nouveau riche. New York-based stand-up comics and hosts Mia Wilson and Sam Kockman, welcome talented comics from Netflix, HBO, The Daily Show, Late Night with Seth Meyers, The Tonight Show, NBC, Hulu, and more to the stage, including:
Sonya Vai (PBS)
Nat Towsen (The Tonight Show)
Daniel J. Perafan (NBC)
Mac O'Hara (Hulu TV)
Samuel Bilsky (Phat Set Comedy)
It may not be West Egg, but I'm sure F. Scott Fitzgerald would approve. Enjoy!
Mentions: Show 8pm ET. FREE! Location: Halyards, 406 3rd Avenue Brooklyn, NY 11215. Follow the show. Feed the algo.