Quick Dish NY: CHERRY Comedy Night TOMORROW 9.22 at ArtSpace at PUBLIC Hotel
Did you know that the cherry is the fruit of many plants of the genus Prunus. Did you also know that it is a fleshy drupe? Haven't we all been a fleshy drupe at some point in our lives? TOMORROW, September 22nd, come experience a whole different sort of CHERRY at Manhattan's hottest new venue, ArtSpace at PUBLIC Hotel! CHERRY is the sweetest standup showcase you'll ever experience hosted by local comedy darlings Auguste White (SNL), Chloe Troast (JUST FOR LAUGHS) and Moss Perricone (COMEDY CENTRAL). Friday's show will be another lineup of heavy hitters ready to entertain including:
Cat Cohen (Peacock)
Jane Wickline (TikTok)
Dave Helem (Rapsh!t)
and Kyle Gordon (Planet of the Bass)!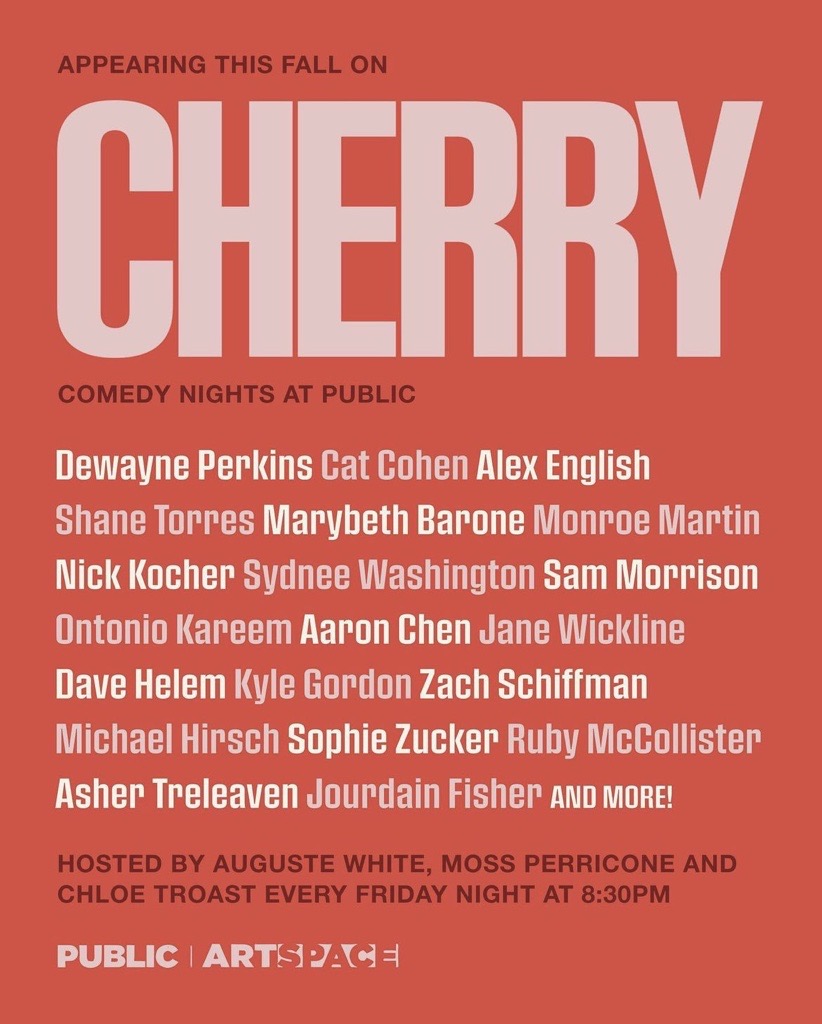 Mentions: Doors open at 8PM and show begins 8:30PM. TICKETS: $20 advance / $30 at the door, purchase here and tag @cherrycomedynyc  and @publichotels on Instagram. Location: ArtSpace at PUBLIC Hotels | 215 Chrystie Street New York, NY 10002. Next show is 9.29 ft Zach Schiffman, Alex English, Marybeth Barone and Nick Kocher. Give the show a FOLLOW. Feed the algo.