Quick Dish NY: 'HYPERFOCUS A Neurodivirgent Comedy Show' in ONE WEEK 11.27 at Caveat
HYPERFOCUS is a first-class ticket into the inner workings of a neurodivergent brain. So what is this "neurodivergence?," you may be asking. It is the term for when someone's noggin processes, learns, and/or behaves differently from what is considered "typical." Oh, so me everyday, GOT IT! Monday, November 27th at Caveat, you will be treated to NYC's best neurodivergent comedians sharing a wealth of their super niche knowledge! Previous topics included "Fermentation," "Do We Need Another Wonka Reboot?" and "The JFK Assassination." What will they hyperfocus on this November? Only one way to find out! Leading you on this HYPERFOCUSED journey will be performers:
Ronald Metellus (Ziwe, Tooning Out the News)
Dan Wickes (SXSW 2023, Roasted)
Blaise Vacca (Story Pirates, Queer Window)
Rachel Kenaston (BoogieManja, Flower Power Comedy)
All hosted by hyperfocus extraordinaire Virginia Dickens (The Onion, Reductress)
Come hang with the cool kids!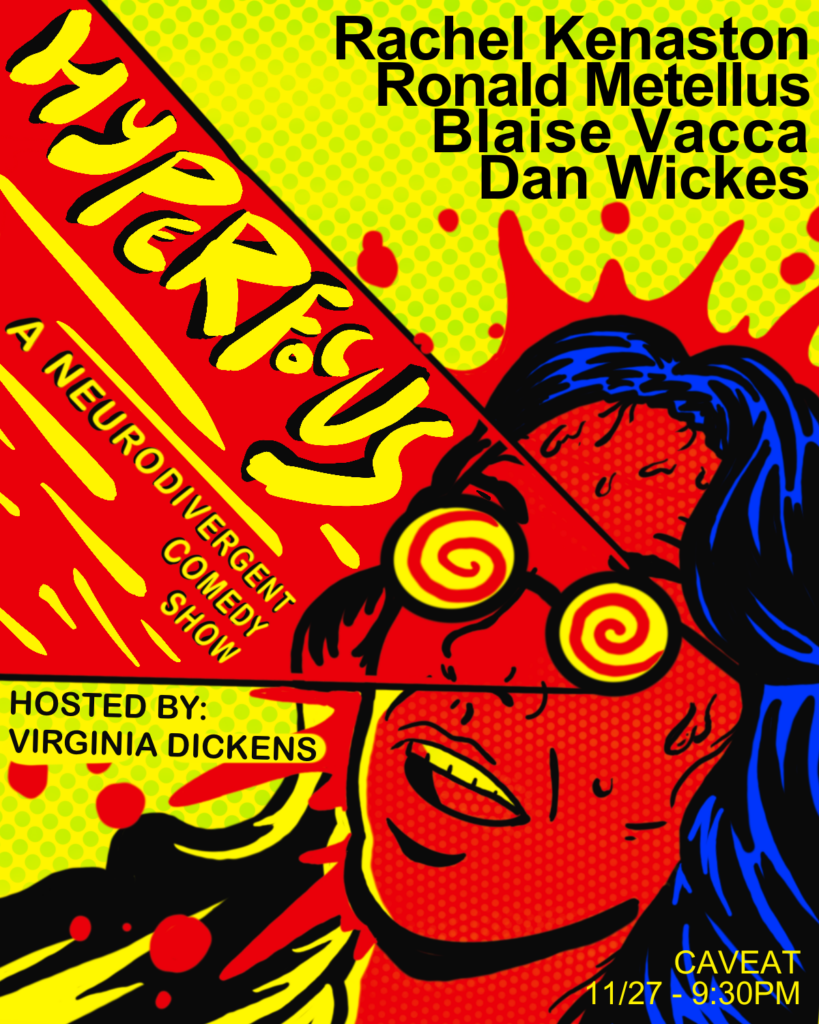 Mentions: Show9:30 PM, doors at 9PM ET. $20 standard/at the door$10 livestream. Location: Caveat | 21A Clinton Street, Manhattan, 10002. Give the show a FOLLOW. Poster by Art Cai @fartcai. Feed the algo.