Quick Dish: VICTORY LAP Presents The Y2K Preparedness Meeting 11.11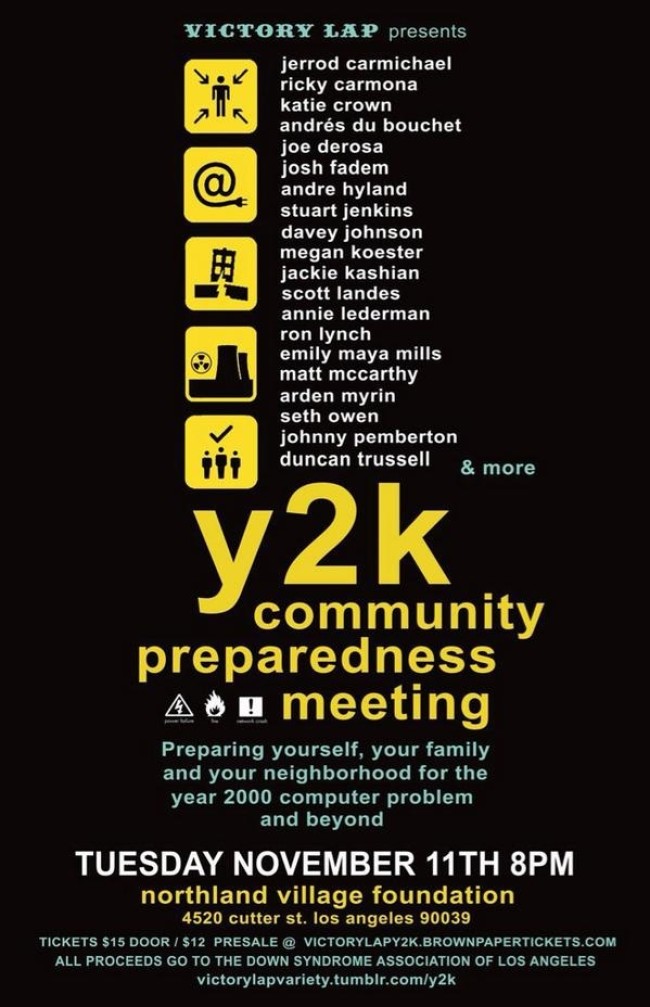 Yes, that's right, this show is in NOVEMBER. You can NEVER be TOO prepared! Tuesday, November 11th join the like-minded at the Northland Village Foundation and help prepare for the end of the world Y2K-style. Prepare yourself and your community for the year 2000 computer bug and beyond at the Y2K Preparedness Meeting with these fine guests:
JERROD CARMICHAEL
RICKY CARMONA
KATIE CROWN
JOE DEROSA
ANDRES DU BOUCHET
SHARON EISMAN
JOSH FADEM
ANDRE HYLAND
STUART JENKINS
DAVEY JOHNSON
JACKIE KASHIAN
MEGAN BETH KOESTER
SCOTT LANDES
ANNIE LEDERMAN
RON LYNCH
EMILY MAYA MILLS
MATT MCCARTHY
ARDEN MYRIN
SETH W. OWEN
JOHNNY PEMBERTON
DUNCAN TRUSSELL
& MORE!
Proceeds go to the Down Syndrome Association of Los Angeles. LAUGH, PREPARE and HELP out because you are AWESOME! Thanks, Victory Lap! YOU ROCK!
Mentions: Show 8pm. $12 Presale $15 Door. Beer & coffee included with admission. Possible snacks for sale c/o The PTA! The Northland Village Church is located at 4520 Cutter St., LA.