Quick Dish: Prepare For SAUCE, Your New Friday Night Comedy Hangout 11.14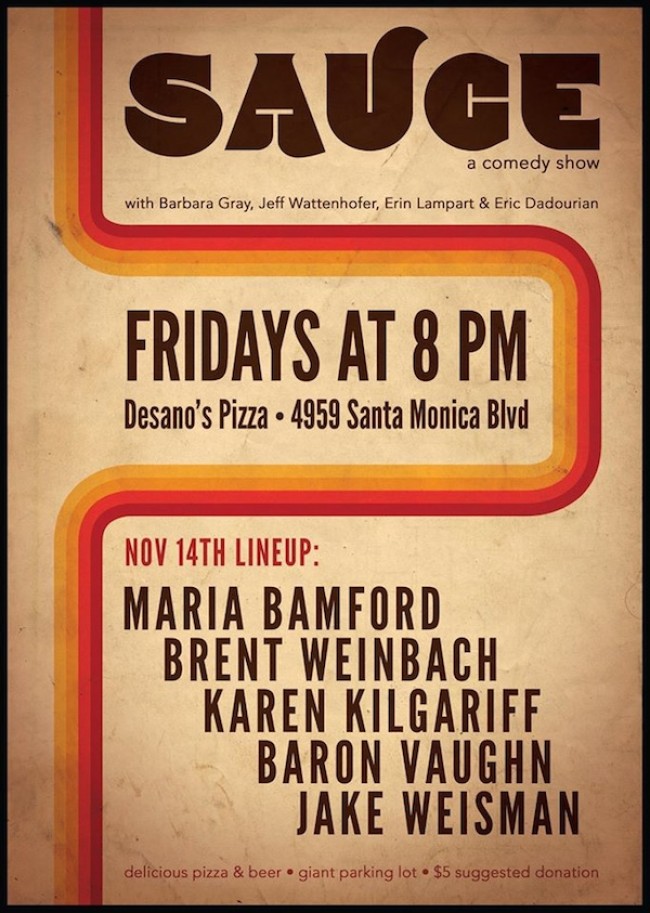 Ever since HOLY FUCK. was put out to pasture, we've been waiting for a new comedy show by one or both of those comedians/producers. Well, our prayers have been answered! Friday, November 14th Jeff Wattenhofer, Barbara Gray, Erin Lampart, and Eric Dadourian bring you the debut of SAUCE: A Comedy Show! If artisan pizza, gelato, comedy and friends are your game, then you are in for a treat! The lineup includes some funny people you may have heard of:
Maria Bamford
Brent Weinbach
Karen Kilgariff
Baron Vaughn
Jake Weisman
Yes, I just screamed a little. AMAZING! Come out and support live comedy, ffs!
Mentions: Show 8pm. $5 Suggested Donation. Lotsa Parking! DeSano Pizza Bakery is located at 4959 Santa Monica Blvd., LA (west of Santa Monica & Vermont).