Quick Dish: Cindy Crawford Show is a Comedy DO 11.17 at MiMoDa Studio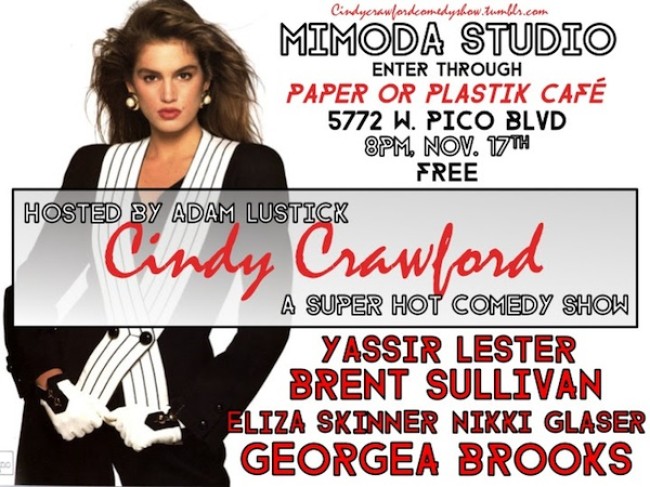 The third Monday of the month is upon us so you know what that means? CINDY CRAWFORD SHOW happens November 17th at MiMoDa Studio (attached to Paper or Plastik Cafe). The free comedy show hosted by Adam Lustick will feature these "model" performers:
Nikki Glaser (Conan, Last Comic Standing, Late Night With Seth Meyers, @midnight, Inside Amy Schumer)
Yassir Lester (Key & Peele, Take Part Live, MTV's Snack Off, Black Dynamite, Mr. Pickles)
Brent Sullivan (The Pete Holmes Show, It Gets Betterish)
Eiza Skinner (Totally Biased, @midnight, Chelsea Lately, Funny or Die)
Georgea Brooks (Canadian, 50 First Jokes LA, "Tuesday" by Alana Johnston)
You know you are just STARVING to see this! GO!
Mentions: Show 8pm. FREE! MiMoDa Studio is located at 5772 W Pico Blvd., LA. Adam Lustick is a member of award winning sketch group Harvard Sailing Team and one half of rap duo Snakes.