Quick Dish: Laugh Heartily at Comedy Palace TONIGHT 12.18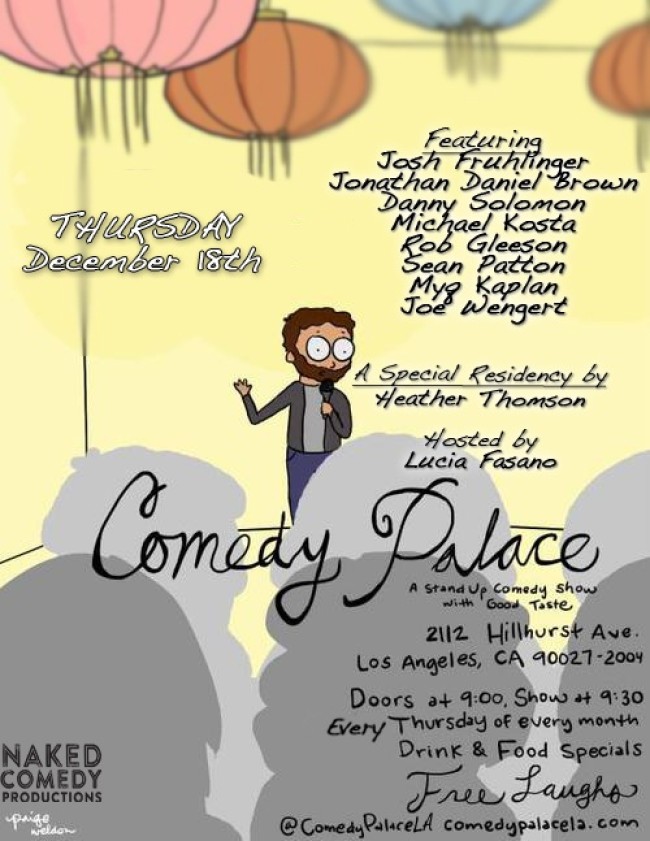 Just like a plate of spicy szechuan cuisine COMEDY PALACE heats things up with a comedy line to rival only the best. Host Lucia Fasano (All Jane No Dick Festival, The Portland Mercury's Late Night Action) welcomes these fine entertainers to The Palace:
Josh Fruhlinger (The Comics Curmudugeon, Jeopardy)
Jonathan Daniel Brown (Project X, Kid Cannabis)
Danny Solomon (Upload with Shaq, Fox ADHD)
Michael Kosta (Conan, Attack of the Show)
Rob Gleeson (Conan, House of Lies)
Sean Patton (The Half Hour, Best Bars in America)
Myq Kaplan (Conan, Last Comic Standing)
Joe Wengert (Comedy Central Half Hour, Kroll Show)
Plus a special residency by Heather Thomson! (Bridgetown Comedy Festival, Print Models).
Support live comedy and chow down on flavorful eats (if you have time). I've eaten here. It's yummy and reasonably priced.
Mentions: Doors Open 8:30pm, residency spot 9pm, Show 9:30pm. FREE! Full bar with DRINK SPECIALS! Great Chinese food! Parking! The Palace is located at 2112 Hillhurst Ave., Los Angeles.