Quick Dish: The What's Up, Tiger Lily? 9-Year Anniversary Show Happens 1.24 at UCB Sunset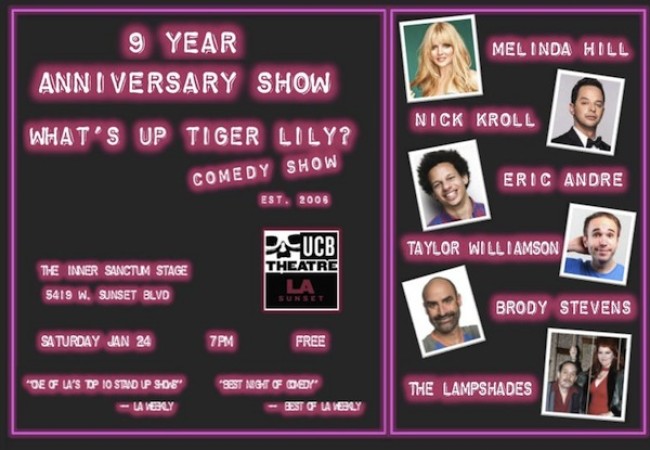 What's Up, Tiger Lily? has been a staple of the LA comedy scene longer than many celebrity marriages and face-lifts in this town. Co-created by comedians Maria Bamford and Melinda Hill and booked by Jazz Ponce, the show has featured the best stand ups from around the world. Keeping a comedy show fresh and innovative for 9 YEARS ain't no small feat. It's time to give thanks to the show that's been bringing it strong all these years. Saturday, January 24 party with Tiger Lily and these fine comedians at UCB Sunset:
Nick Kroll (The League, Comedy Central's Kroll Show)
Eric Andre (Man Seeking Woman, The Eric Andre Show on Adult Swim)
Melinda Hill (Emmy-winning series Adventure Time, creator & star of Romantic Encounters with Melinda Hill)
Brody Stevens (star of Comedy Central's Brody Stevens: Enjoy It)
Kate Flannery & The Lampshades (The Office, host of Stand Up in Stilettos)
Taylor Williamson (America's Got Talent)
This is gonna be one crazy anniversary!
Mentions: Show 7pm. FREE! UCB Sunset's Inner Sanctum is located at 5419 W. Sunset Blvd., LA. For future Tiger Lily lineups click HERE. Valet or street parking available. Next show is Feb. 28th with Maria Bamford, Mary Lynn Rajskub, Melinda Hill and MORE.