Tasty News: The 2015 Bridgetown Comedy Festival Tickets are Ready for the Snatching

The green lands of Portland are calling! The 2015 Bridgetown Comedy Festival happens May 7-10. This is your chance to eat a Voodoo Doughnut and watch the finest comedy be performed before your very eyes. Feast your peepers on just some of the folks that will be making you gush with laughter this Spring: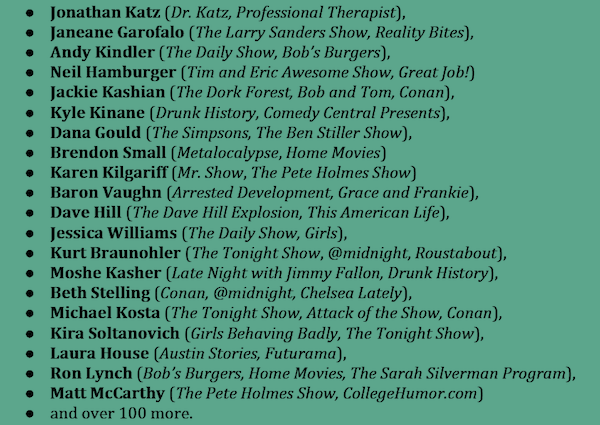 Just some of the shows that will also be featured include An Evening with Dr. Katz, Professional Therapist 20th Anniversary Show with guests Janeane Garofalo, Andy Kindler, Dana Gould, and Brendon Small; Baked with Steve Agee (New Girl) and Brendon Small (Metalocalypse); the Hound Tall live podcast with host Moshe Kasher and panel; Jackie Kashian's The Dork Forest, a podcast celebration of "dorkdom"; 7 Minutes in Purgatory, hosted by Ian Abramson; The Crabfeast, with storytelling from hosts Jay Larson and Ryan Sickler; The Dana Gould Hour, with weird and real conversations, music and monologues; The K-­Ohle, a multi-­‐format podcast that involves discussing boats, pets, and scientific theories; Blaria LIVE, hosted by comedian Phoebe Robinson, based on the popular "Blaria" blog — the black version of the '90s MTV character Daria; and MORE!
Bring on the smiles!
Mentions: Passes are now on sale for $89-$225. Individual show tickets are sold in advance only for Dr. Katz, Professional Therapist. Single tickets to all other shows will be will available at each venue in advance of each show.