Quick Dish: Picture This! Draws Some Attention 3.21 at NerdMelt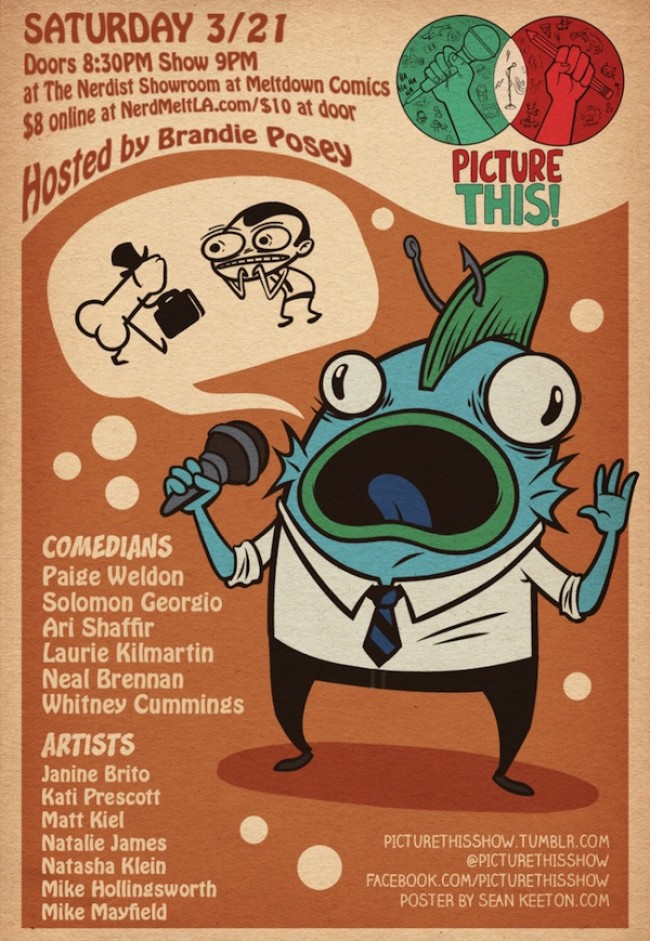 Animators and comedians unite for LA's only live animated comedy show, PICTURE THIS!, March 21st at the Nerdmelt Showroom. Not only do you get to see your favorite comedians perform before your very eyes, but a bunch of extremely talented (perhaps a bit crazy) animators bring their jokes and actions to life in real time. Animators Janine Brito (Totally Biased w/ Kamau Bell), Mike Mayfield (Mr. Pickles, Adult Swim), Mike Hollingsworth (BoJack Horseman, HBO) and MORE will be joining these fine comedians for some artistic fun:
Solomon Georgio (Conan)
Paige Weldon (Literally Figurative Records)
Ari Shaffir (Comedy Central, HBO)
Laurie Kilmartin (Conan, Late Late Show)
Neal Brennan (Chapelle's Show,)
Whitney Cummings (Whitney, Tonight Show)
hosted by Brandie Posey (Tosh.0, Lady to Lady)
Check out some of photos of previous shows to get pumped. Buy your tickets today!
Mentions: Doors 8:30pm. Show 9pm. Buy Picture This! tickets HERE. NerdMelt Showroom is located at 7522 Sunset Bl., LA. Images by Scott Sutton.