Quick Dish: Picture This! NYC 4.4 at Union Hall, Park Slope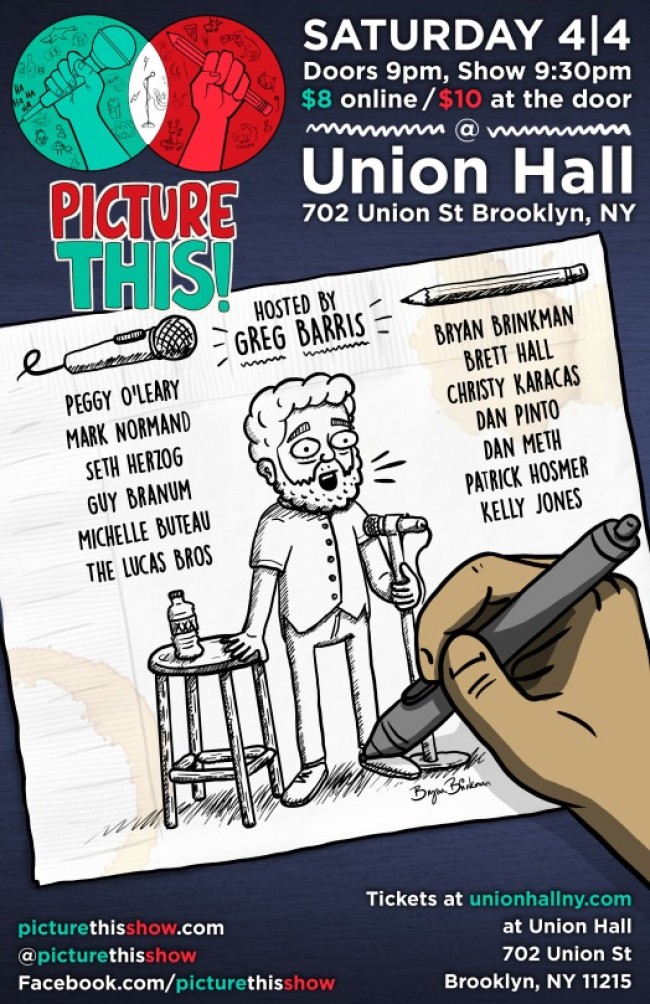 In a nutshell PICTURE THIS! is sassy animators bringing to life the actions and words of comedians. Our lucky cross country homies will be enjoying this wonderful comedy/art show Saturday, April 4th at Union Hall in Park Slope. The comedy will be provided by
Seth Herzog (Tonight Show)
Mark Normand (Conan)
Peggy O'Leary (Bridgetown Comedy Festival)
Guy Branum (Chelsea Lately)
Michelle Buteau (VH1's Big Morning Buzz Live)
The Lucas Bros (Lucas Brothers Moving Company)
and the ANIMATORS whose work will be projected before pretty eyes will include
Brett Hall
Dan Pinto
Christy Karacas (Superjail!)
Dan Meth (Buzzfeed)
Patrick Hosmer (Guy Code/Girl Code)
Kelly Jones (Nickelodeon)
Bryan Brinkman (Tonight Show)
Also, the show will be hosted by comedian Greg Barris. New Yorkers, get your tickets quick. Everyone else start booking those plane flights too!
Mentions: Doors at 9pm, Show at 9:30pm. Buy Picture This! tickets NOW! $8 online $10 door. Unon Hall is located at 702 Union St. Brooklyn, NY.
______________________________________________
"What is Picture This!?"
PICTURE THIS! is a new show from Brandie Posey & Sam Varela: two girls who want to push the boundaries of what a comedy show can be. Picture This! is a live comedy show with stand-ups performing while they are drawn live by some of the best animators, cartoonists, and other artists in Hollywood, CA, SF, NYC and Portland. Picture This! has also debuted in Toronto, New Zealand and Australia! The comedians don't know what the animators are drawing and the animators don't know how the comedians will react.
It may be weird.
It may different.
But it will be FUNNY!