Quick Dish: The H4cker 2.0 Edition of SL33PAWAY C4MP Happens TONIGHT 6.23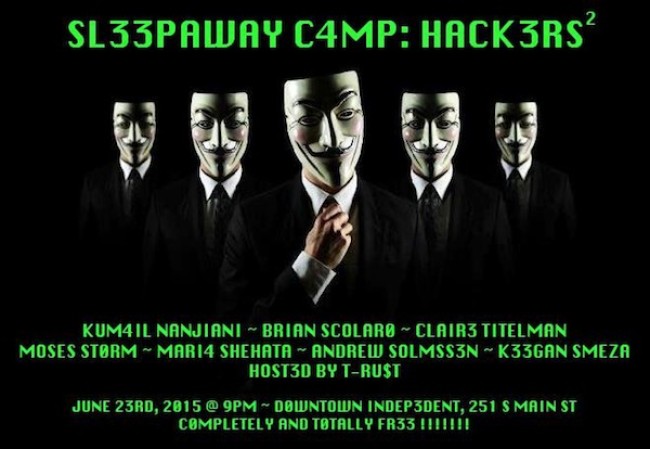 And you thought your Tuesday evening was going to be just another typical romp on Internet. TONIGHT (June 23) join SLEEPAWAY CAMP for the ultimate in cyber vice as the gang goes all 0s and 1s with a "H4ckers" theme. Your Mr. Robots for the evening include:
KUMAIL NANJIANI
BRIAN SCOLARO
CLAIRE TITELMAN
MOSES STORM
MARIA SHEHATAANDREW SOLMSSEN
&
KEEGAN SMEZA
Hosted by TRAVIS RUST
Don't be an id10t and come experience the ultimate blackhat superhighway.
Mentions: Show 9pm. FREE!!! Tasty refreshments and spams await! The Downtown Independent is located at 251 S. Main Street, LA.