Quick Dish: LIP SERVICE is TONIGHT 8.5 at Westside Comedy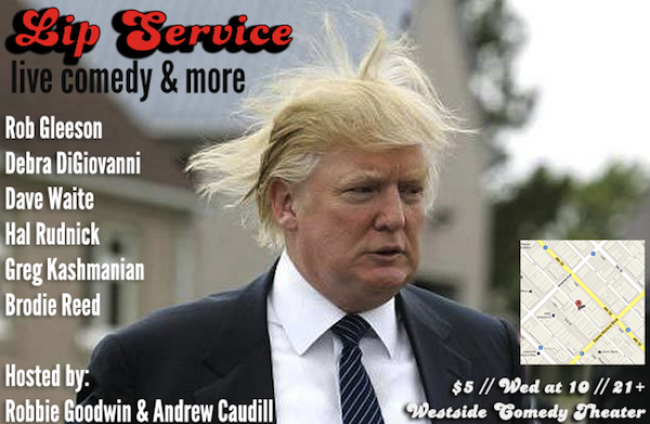 We're about to get totally meta. We're paying lip service to Westside Comedy's LIP SERVICE show. Sorry about all that brain mess. You can sweep it up later. Alright, maybe we're acting upon our words, but you get the picture. Kids, TONIGHT (August 5th) in slightly cooler downtown Santa Monica enjoy the best of stand up, sketch, and improv worlds in one handy package. Every Lip Service show you'll see seasoned stand ups rub elbows with character actors and comedic musicians PLUS there's even LIVE sketches. BOOM! More mess to clean up. This very eve take a gander at:
Rob Gleeson (Conan, NCIS, House of Lies)
Dave Waite (Comedy Central, Last Comic Standing, Late Night with Jimmy Fallon)
Debra DiGiovanni (Last Comic Standing, Comedy Central's Live at Gotham)
Hal Rudnick (Key & Peele, Community, Screen Junkies)
Greg Kashmanian (BET's Real Husbands of Hollywood, NPR)
Brodie Reed (@midnight, Hush Money)
hosted by Robbie Goodwin (The Todd Glass Show, Brown College Comedy Festival) and Andrew Caudill (Ice House)
Don't miss the show worth talking about!
Mentions: Show 10pm. Buy Lip Service tix HERE. Westside Comedy is located at 1323 3rd Street Promenade, Santa Monica.