Tasty News: Eugene Mirman's "I'm Sorry (You're Welcome)" Drops 10.30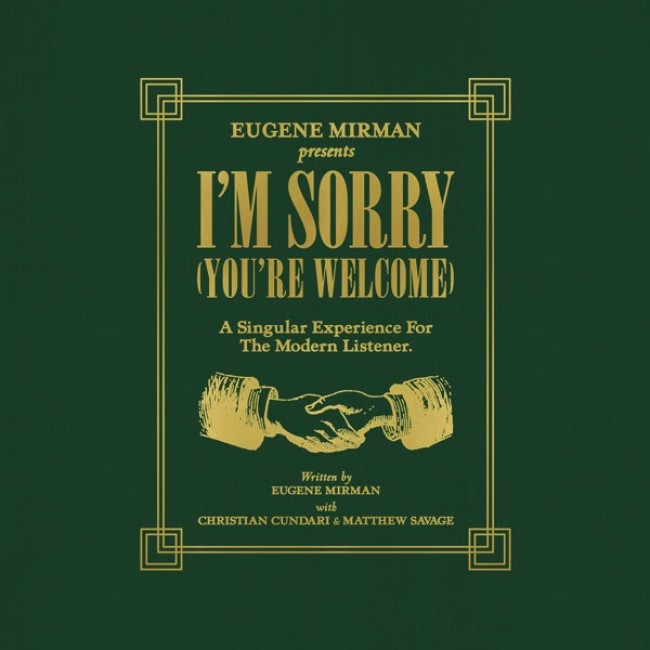 You may already be familiar with this gent from his work on Bob's Burgers, Neil deGrasse Tyson's comedic Sancho Panza on Star Talk, and so much more. However, I see you are clearly in need of copious amounts of EUGENE MIRMAN's contagious wit. Lucky for you, the man has compiled a 9-volume, 7-LP comedy album that is begging to be purchased October 30, 2015. I'm Sorry (You're Welcome) is the product of Eugene's dream to put together "a vast array of sounds" that the endeared listener could embrace and call their own. If learning Russian, meditating, and the sound of ground man crying are your jam, this multi-album is for you! Included on the release is a full set of live stand-up recorded at the Columbia City Theater that accompanies such Long Play titles like LP 2A: Guided Meditation For The Thoughtful Body, LP 2B: Fuckscape, LP 3: Eugene's Comprehensive Sound Effects Library, LP4: Digital Drugs, LP 5: Over 45 Minutes of Crying, LP 6: Introduction To Spoken Russian, LP 6B: Ringtones & Outgoing Voicemail Messages For Your Personal Use, and, last but not least, LP7: 195 Orgasms. Yep, he went there. Consult the soundscape preview below:
I'm Sorry (You're Welcome) will be available digitally, or as a gorgeous, 7-LP box set from Sub Pop Mega Mart. If you're really fancy, there will be limited-edition embroidered robes and an armchair with embedded audio players available to purchase from megamart.subpop.com (while supplies last). Eugene will be starting the I'm Sorry (You're Welcome) Tour October 30th at The Bell House in Brooklyn, NY and delivering laughter to Austin's Fun Fun Fun Fest, LA's Largo, Seattle's The Neptune, Portland's Newmark Theatre, and ending with Boston's Paradise November 19th. Add some spice to your life with a touch of Mirman!
Mentions: For more details go to Sub Pop Records or Eugene's site. Get to pre-ordering now!