Tasty News: Watch The Trailer For The MATZA PIZZA Series & It's Fake Kickstarter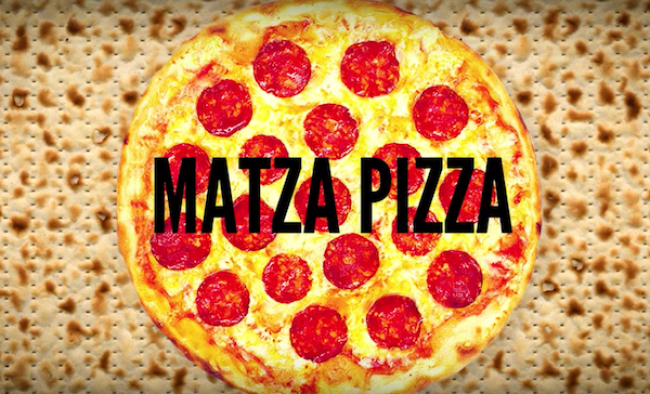 Did someone say pizza? No wonder my belly sounds like a Wookie in a sarlacc pit. I'm starving! I digress. MATZA PIZZA is an upcoming series composed of 16 individual comedy videos. The episodic sketch comedy series is set to premiere every week once a week until Valentine's Day and will star Gianmarco Soresi (that guy from those snazzy General Electric commercials, CBS' Blue Bloods, and the Voldemort ASMR vid EVERYONE loved). The new series gets deep dish about everything Soresi dislikes about himself and the choices he's made living as a Jewish Italian in this crazy world. The "passionately neurotic" series tries to get to the bottom of the star's "narcissism, nihilism and existentialism WHILE MAKING YOU LAUGH." The folks behind the series recently released a "Fake Kickstarter" viral grassroots marketing campaign that just so happened to get kicked off of Kickstarter (shocking!), but now lives at IndieGoGo ( for now!). Watch below. (WARNING: Slightly NSFW!)
As luck may have it, the trailer for the series is primped and prime for your viewing pleasure this very day. Before you watch ,let's tell you a bit more about the people behind the production. Gianmarco Soresi is the creator of Matza Pizza. He is member of Uncle Function at The Peoples Improv Theatre where he performs and writes sketches monthly. He also performs as a comic at Caroline's Comedy Club, Gotham, The Metropolitan Room, and UCB. The producer is Lindsay-Elizabeth Hand, the SAG actress, award-winning writer, and Edge in Motion production company creator who's had a hand in comedies like Awful Terrible Lizards and Riding the D with Dr. Seeds (which we adored!)
Matza Pizza was directed by eight different directors (Michelle Cutolo, Alex Forstenhausler, Andrea Kfoury, Kevin Michael Murphy, Jeff Nash, Jeff Rabinak, Andy Zou) and this first round of sixteen sketches features a diverse group of hard-core talented comedians from UCB, Broadway, and more. Take a deep breath before we list this amazing cast: Lindsay-Elizabeth Hand, Chris Rice (Book of Mormon), Heath Saunders (Natasha, Pierre & The Great Comet of 1812), Alex Song (UCB, Above Average), Carl Foreman Jr. (UCB, CollegeHumor), Emma Tattenbaum-Fine (TruTV), Bess Fifer (CD for Daredevil & Stranger Things), Jeff Solomon (Elephant Larry), RJ Brown (The Carrie Diaries), Eric Miller (The Blacklist), Eleanore Pienta (The Chris Gethard Show), Elyse Brandau (Veep) AND
Sean Kenin, Jonathan Braylock, Andy Zou, Alice Grindling, Rohana Kenin, Megan Sass, Monique Moses, Dominique Nisperos, Alex Estrada, Chris Cafero, Douglas Goodhart, Jack Plowe, Georgia Warner, Tony Wolf, Sean Barry Parsons, Trumane Alston, Justine Harrison, Natalie Walker, Taisiya Bazaliy, Toussaint Jeanlouis, James Price, Cristina Pitter, Thomas Wesson, Dominique Nisperos, Jim DiMunno, Alyssa Abraham, Meg Cashel, Edith Taylor, Garrett Gray, Ali McGhee, Sarah Burke, Lauren Flack, Anne Peng, Devynn Brooks, Jhonattan Marques, Mariko de Couto, Shari Cohen, Kimberly Lam, Stanley Huang, Caitlin Devore, Randolph Tan, Russ Somoza, Asel Otunchieva, Nao Inuzuka, Maria Molina, Georgia Davies, Iryna Sysko, Nikki Nasto, Katie Koegel, William Rosenberg, Mark Mackillop, Sai Somboon, Kelli Harrison, Jax Jackson, Marcus Edghill, Bert Flowers, Sarah Seeds, Scott Friedstein, Rasheda Crockett, Russell Daniels, Ian Quinlan, , Ben Gougeon, Tim Murray, Andrea Biggs, Bari Hyman, Kristin Parker, Ali Mcghee, Giuseppe De Caro, Asterios Kokkinos, Zoltan Nagy, and Mauricio Marces!
Check out all the madness every Monday! Watch the trailer NOW!
​Mentions: Watch Matza Pizza Mondays HERE! You can be seen Gianmarco in the pilot episode of Seeso's New York's Funniest. Keep your fingers crossed for Lindsay-Elizabeth's comedy pilots Awful Terrible Lizards and 20-Something!