Quick Dish LA: 'HAUNTING RENDITIONS IN LA LA LAND' with Glazer, Holmes & Hart
Yes, you saw that correctly. Saturday, January 28th PETE HOLMES and MAMRIE HART will be joining ELIOT GLAZER for a night of lyrical fun at The Echo in Los Angeles. It's been 18 months since Haunting Renditions with Eliot Glazer was in LA and the show is returning with a bang. Two entertainers you don't normally associate with music, Mamrie Hart (Dirty30, Camp Takota) and Pete Holmes (Crashing, The Pete Holmes Show), will be the guests of the vocally gifted Glazer (Executive Story Editor for New Girl). Once again, Haunting Renditions will find deeper meaning in the popular tunes we know and love. It's MTV Unplugged meets Lip Sync Battle, Carpool Karaoke, Austin City Limits and more! Just when you thought a song couldn't be improved upon, you'll be pleasantly surprised. Don't miss out on the show that inspired Golden Globe winner La La Land!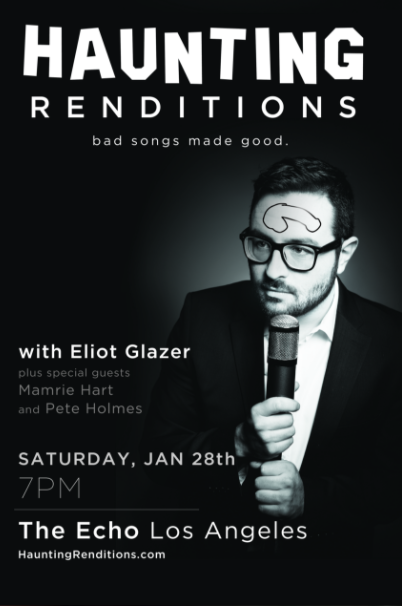 Mentions: Show 7pm. Buy tickets HERE! The Echo is located at 1822 W. Sunset Blvd. Los Angeles.