Added on March 17, 2017
CakeMama
Fringe , I'm Not Buying It , Kendra Cunningham
Video Licks: Let's Get Nostalgic in the Closet with KENDRA CUNNINGHAM'S Fashion Talk Show "I'm Not Buying It"
Now is the time you get a small reprieve from on all our St. Patrick's Day coverage. Let the questioning begin! Would you consider yourself a shopaholic? Is there apparel stuffed in the back of your closet that still has the tags on it? Then it's time to join comedian KENDRA CUNNINGHAM (Blonde Logic) for some true retail therapy in the hilarious series I'm Not Buying It. What started out at as a hopeless, unending search for bargains manifested into a comedic fashion talk show about the most regrettable purchases ever. Shop 'til you drop, kids!
I'm Not Buying It: Episode Uno – Kendra Cunningham sports a Carol Brady number as she hosts Jess Wood, Ophira Eisenberg, and Kerryn Feehan in a bargain fashion show. Fashion Police, watch out!
I'm Not Buying It: Episode Dos – Kendra flaunts a kimono-like ensemble for her guests while Vicky Kuperman, Sue Funke, and Meghan Hanley reveal some of their most embarrassing fashion purchases.
I'm Not Buying It: Episode Tres – It's really episode "Three" but I, ever the obsessive–compulsive, kept with the theme of prior episodes. Kendra harkens back to the Mad Men era with metallic fur, as truly stellar outfits from Juliet Kressner, Tina Pettigrew, Katherine Williams, and Pamela Masters come out of the closet.
Kendra Cunningham is a Boston-born stand-up comic, comedy writer, actress and filmmaker with an MA in Forensic Psychology and some bartending hours under her belt. She's performed at the Boston Comedy Festival, IFC/BAM Comedy Showcase, Montreal Just for Laughs Festival, Ladies of Laughter Festival, and Women in Comedy Festival. In addition, she's appeared on Saturday Night Live, The Jimmy Fallon Show, The Tyra Banks Show, Nickelodeon's Mom's Night Out, and Sherri Shepherd's Stand Up Showcase. Pick up her full-length album BLONDE LOGIC on Rooftop Comedy/Audible.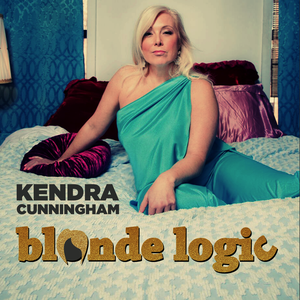 Mentions: Get more deets about Kendra at kendracunningham.com. You can catch her at FRINGE Comedy Monday, March 20th, in Los Angeles.