Tasty News: WE ARE THOMASSE Brings You A NEW Easter Bunny Video & More LIVE Shows at Second City Hollywood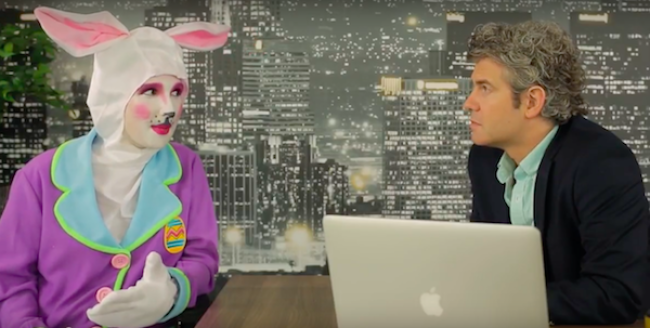 Last month, they did it again! Nick Afka Thomas and Sarah Ann Masse known as We Are Thomasse had another stellar 45 minute show jam packed with amazing original sketches. This gut wrenching British-American sassy couple are known for their widely famous online presence (ie. Feminists Fairytales, Awkward Exes: Britain & America). Throughout their set of sketches, the two had amazing references to historic situations and relationships and both were able to bring a country to life as it's own person. You fall in love with the bold and outrageous characters that they bring on stage and sometimes these characters are even recurring. They have this amazing ability to get their audience sucked into their scenes with their dramatic energy and various fun props. If you're bummed that you missed such a spectacular show, don't worry! We Are Thomasse will be starting a reoccurring show at The Second City in Hollywood every 3rd Tuesday at 8pm starting April 18th. Hurray! To bide the time while you wait, how about you check out their newest video, just in time for Easter! Looks like the bunny is none to pleased with her agent. Enjoy The Easter Bunny visits her Agent!
Also, check out this slideshow of images from the show I attended at The Second City Hollywood.
Mentions: See We Are Thomasse at Second City Hollywood starting April 18th at 8pm. Upcoming dates: 5/16, 6/20 and 7/18!