Quick Dish NY: Welcome to THE UNCANNY VALLEY 5.15 at Hell Phone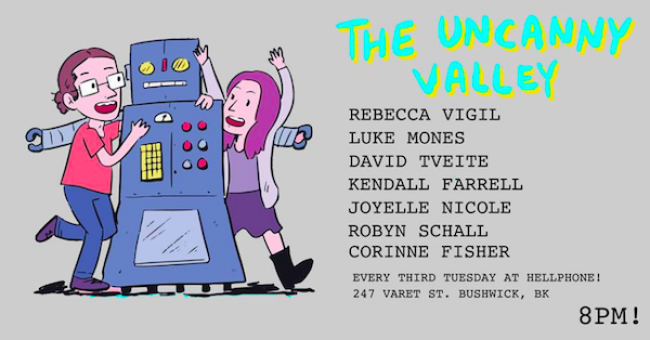 Westworld has that "uncanny valley" situation ALL worked out, but they've still got more fish to fry. Dolores and Maeve, gulp! Tuesday, May 15th at the Hell Phone speakeasy, you can get all THE UNCANNY VALLEY variety madness you like with your hosts Amber Rollo & Danny Felts guiding the way. This month your bill will include:
Standup from:
Joyelle Nicole Johnson (COMEDY CELLLAR)
Robyn Schall (LIVE AT GOTHAM)
Corinne Fisher (GUYS WE F*CKED)
Luke Mones (SKOOTCH COMEDY)
David Tveite (LAST COMIC STANDING)
Kendall Farrell (VERMONT'S FUNNIEST COMEDIAN)
PLUS Musical act:
Rebecca Vigil (NETFLIX)
It's about time you treated yourself to something a little off the beaten path. GO!
Mentions: Show 8pm. FREE! Hell Phone is located behind Ange Noir Cafe in Bushwick, 247 Varet St (go through the phone booth) – Between Bogart and White St., Near the Morgan Ave L.