Tasty News: Pick Up JOEY CLIFT'S "American Indian Ready To Wear Catalog 2018" Satire Zine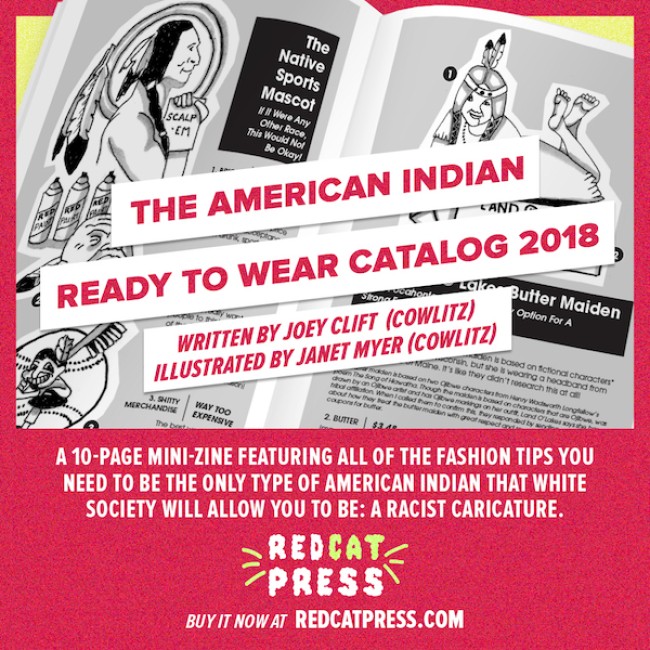 You know him as the man behind that most beloved cat themed late night talk show, Chats on Cats, AND as a talented writer at places like UCB & DreamWorksTV, but did you also know he has a 10-page satire zine out? "Oh," you say? YES, the American Indian Ready To Wear Catalog 2018 brings to light the ridiculous ways that Native Americans have been represented in the media via, wait for it, a fashion catalogue! Joey is a bonafide registered member of the Cowlitz Indian Tribe (a tribe of Southwestern Coast Salish indigenous people of the Pacific Northwest located in Washington) and grew up on the Tulalip Indian Reservation. No, you can't join just for funsies.
Having worked in the entertainment industry, he's learned just how little representation the native culture has had in popular media. When Native Americans ARE represented it is often in an inaccurate or outright prejudicial way. Through the power of Clift's teachable humor, perhaps now you'll finally read up on the real story of Pocahontes (no, not the Disney one) and stop wearing those feathered headdresses to every music festival this summer. Digital and physical copies of the book are available at redcatpress.com. The zine features illustrations by Janet Mayer, Clift's mom. Adorable! Now stop uncomfortably clenching those butt cheeks and go laugh and learn!
Mentions: You can also pick up the zine (in the flesh) at UCB in the Inner Sanctum Cafe! Follow Joey on Twitter! Learn more about him HERE.