Quick Dish NY: Catch The D*CK PIX Satirical Play running through 8.11 at Theaterlab
Put on your live theatre hats, kids, it's time to enter the world of D*CK PIX! You too could be swept up by a satirical look at gender norms, social media, and the art world. Let's get a little more meat off those bones with a tiny summary:
"Calvin is a photographer and self-proclaimed provocateur in desperate need of an idea for his next installation. Grace, his girlfriend and publicist, and Fyn, his best friend and art dealer, are turning up the heat as the deadline approaches. Meanwhile, two eponymous Art Handlers begin to complicate the situation when they become the target of Grace's unwanted attention. Mrs. Marbleblatt, a widowed patron of the arts, further queers the equation when she takes a prurient interest in Calvin's work. Ambitions and visions collide in a satirical comedy about identity, harassment, and narcissism in the age of social media."
Sounds wildly good, right?! Playwright Daniel McCoy's new comedy is currently running at Theaterlab in mid-town Manhattan. It is directed by Heidi Handelsman and features Kate Abbruzzese (As You Like It/workshop, at The Public Theatre), June Ballinger (Pack of Lies/Broadway), David Gelles (Deception/NBC), Erinn Holmes (The Guest at Central Park West/Workshop Theater), Bruce Jones (The Chalice with Austin Pendleton at The Stonewall Inn), and Lynne Marie Rosenberg (CastAndLoose Live!/Joe's Pub). The play runs through August 11th. See remaining performances below:
Thursday August 2 @ 7:30 pm
Saturday August 4 @ 6:00 pm
Sunday August 5 @ 3:00 pm
Wednesday August 8 @ 7:30 pm
Friday August 10 @ 7:30 pm
Saturday August 11 @ 8:30 pm
Be there!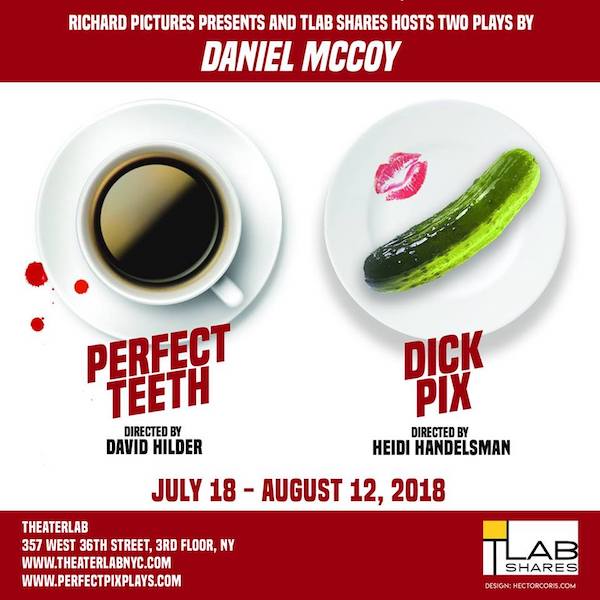 Mentions: Dates & times above. Tickets are $20 and can be purchased at www.perfectpixplays.com/tickets. Theaterlab is located at 357 West 36th Street (between 8th and 9th avenues), 3rd Floor, New York, NY 10018. Subways: 1, 2, 3, A, C, E to 34th Street. Running time: 90 minutes. Check out Daniel McCoy's Perfect Teeth also playing at Theatre Lab. Feature image by Jody Christopherson.