Tasty News: NONE OF OUR BUSINESS Audio Series Available Now Exclusively on Audible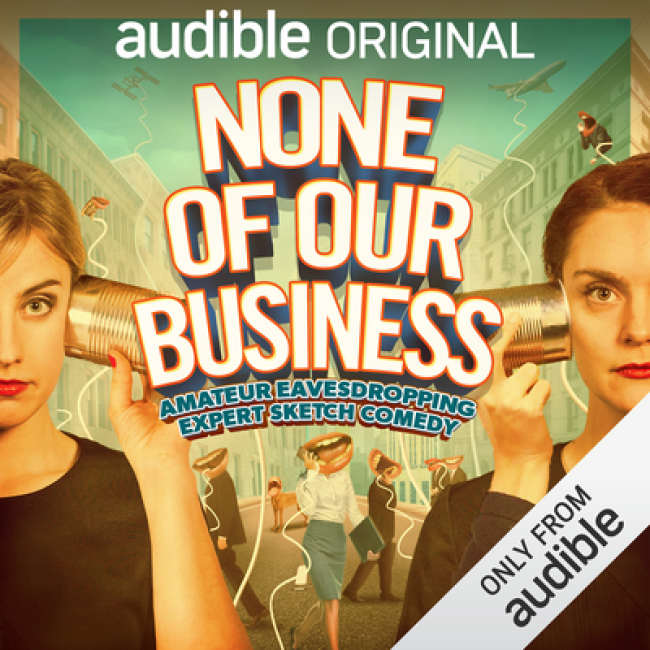 As fate would have it, I was watching an old clip of MadTV with Michael McDonald as wide-eyed, incorrigible child and recurring character Stuart. In the clip, Stuart is listening to a conversation between his mother and her friends and pipes up when he's mentioned:
Stuart Larkin: You promised you'd never tell.
Doreen Larkin: Stuart, what does mama say about eavesdropping?
Stuart: I don't wanna say.
Doreen: Stuart, what does mama say about little boys who eavesdrop?
Stuart: I don't wanna say.
Doreen: WHAT DOES MAMA SAY?!
Stuart: Little boys who eavesdrop deserve to hear the truth, and the truth is usually devastating.
It may not be good manners to eavesdrop, but it SURE DOES make for a captivating audio series! NOW OUT in our great land of 50 states, exclusively on Audible, is the series that merges the interview and scripted sketch podcast genres. Each perfectly compact episode (under 20 minutes of goodness) of NONE OF OUR BUSINESS, hosted by Canadian award-winning sketch comedy duo Gwynne Phillips and Briana Templeton (The Templeton Philharmonic), features an interview with a guest about their most memorable eavesdropping experience, directly followed by a scripted sketch created by the hosts, based on the overheard story.
The series season includes Canadian and non-Canadian guests from the entertainment field and beyond, featuring stories from Reggie Watts (Comedy Bang! Bang!), Tony Hale (Arrested Development), Anna Sale (WNYC's Sex, Death & Money), Colin Mochrie (Whose Line Is It Anyway?), Scott Thompson (The Kids In The Hall), Josh Fadem (Twin Peaks), Carolyn Taylor (Baroness Von Sketch Show), Kurt Braunohler (The Big Sick), Sam Richardson (VEEP) and, *squeels with excitement* astronaut Col. Chris Hadfield. I blazed through many a wonderful episode and I can truthfully exclaim that I'M ADDICTED! From xylophones to space cowboys to last breathing words, the series reveals so much about our obsession with other's conversations, our lasting recollection of those events, and the comedy that comes out of such brief and poignant encounters. Do yourself a solid, and make NONE OF OUR BUSINESS your business!
Mentions: Try Audible for FREE HERE!