Quick Dish LA: ROD STEWART LIVE 8.15 Tomorrow at La Cuevita in Highland Park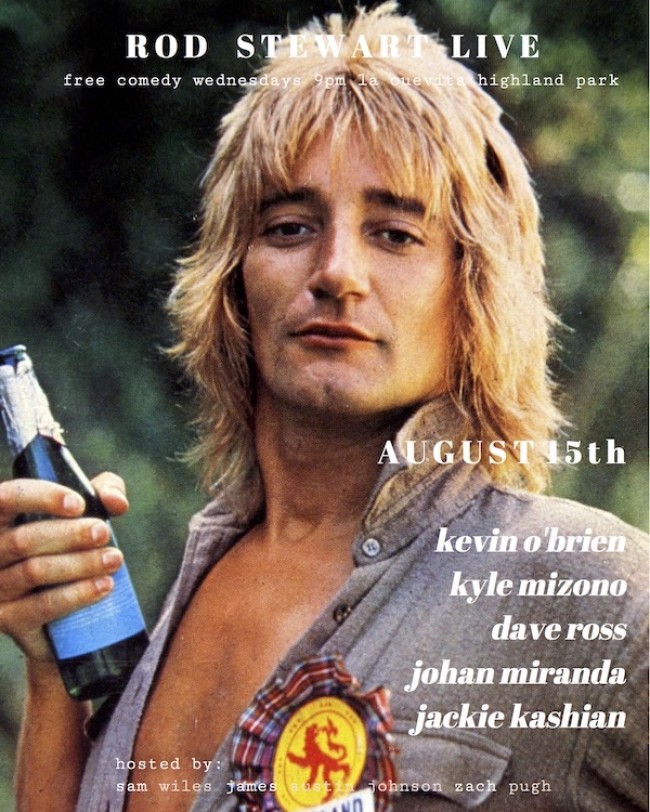 In a month the studio legend with the rocker hair unleashes his 30th studio album. What did you do this morning? I just polished off some Alpen. Goals are subjective, kids. TOMORROW, watch comedy legends in the making with ROD STEWART LIVE at your favorite Mexican-themed watering hole, La Cuevita. Your hosts Sam Wiles, James Austin Johnson, and Zach Pugh will bring you this 'Angel' of a lineup:
Kyle Mizono
Dave Ross
Kevin O'Brien
Johan Miranda
Jackie Kashian
'Handbags and Gladrags' optional. See you there!
Mentions: Show 9pm. FREE! La Cuevita (Little Cave) is located at 5922 N Figueroa St., Los Angeles, CA 90042. Catch the show every Wednesday at 9pm! Follow the show on Twitter, Facebook, & Instagram.