Quick Dish LA: See Latin Comedian & LGBTQ Ally DEBI GUTIERREZ This Weekend at Flappers in Burbank
Latin Comedian DEBI GUTIERREZ (The View, The Chew and more) is flying high having just headlined PRIDE in San Diego. This weekend, October 12th & 13th to be exact, she will be headlining Flapper's Comedy Club in Burbank. Keep that gravy train rolling! Gutierrez, being mother of two children in the LBGTQ community, will be doing 20-25 minutes of her 45 minute headline set about being part of this unique community. Debi is "best known for being an explosively funny comedian who takes her audiences on a high-energy, heart-warming roller coaster ride through the perils and delights of life, relationships and marriage." When the real-life wife, mom and friend isn't walking the red carpet, she's making folks laugh with stories of home-schooling, house-cleaning, and cooking meals. In addition to her roles as mother and comedian, Debi is a motivational humorist and keynote speaker! Come check out Debi's set this weekend. Here's a taste of her humor & cooking skills on The Chew!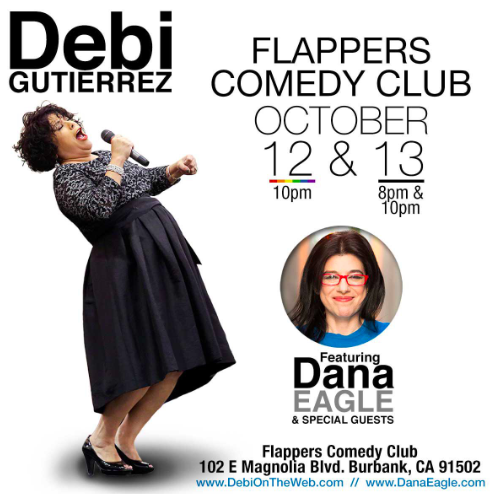 Mentions: Click HERE for ticket info to the Flappers events. Tix available for 8pm Tonight and 10pm Saturday. Learn more about Debi HERE!