Quick Dish: 10 More Reasons to Attend the 2014 RIOT LA Comedy Festival
I'm running out of reasons to entice you to experience LA's premiere alternative comedy festival, the 2014 RIOT LA . Oh wait, I thought of 10 more reasons to hang out in DTLA January 9-12. Giggle. Not only would it behoove you to purchase a SUPERFAN PASS but you will want to slap down some bills for some of the individually ticketed performances. If the comedy alone ain't worth your time (cough…gag) surely the promise of beer, food, and astroturf should appease your lizard brain. Check out why your next four evenings and days should be spent laughing it up: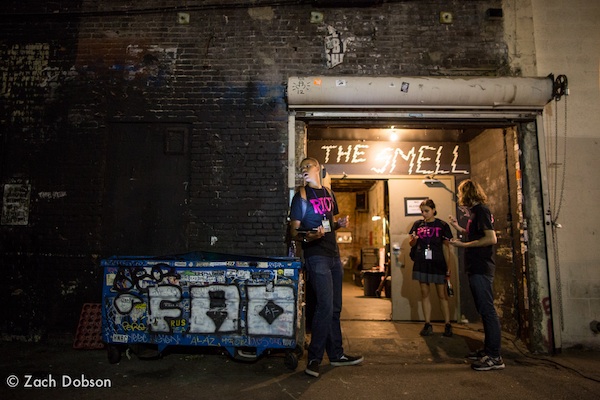 1.The Best of RIOTLA (THURS 8:00P, FRI 8:00P, SAT 9:00P & 11:00P, SUN 8:00p & 9:00P)
Every night of the fest you will be able to see a carefully curated assembly of talented comedians performing all flavors of stand-up. Night 1 of this event you will be able to see Giulia Rozzi, Matt McCarthy, Chris Garcia, Fahim Anwar, Josh Gondelman and Dave Stone. Night 2 promises the hysterical Christian DuGuay, Josh Fadem, Byron Bowers, Allen Strickland Williams, Rob Gleeson and Jenny Zigrino. Night 3 you can expect the musings of Emily Heller, Richard Bain, Ron Funches, Ari Shaffir and Aparna Nancherla at 9PM followed by Jenny Zigrino, Tony Sam, Matt Donaher, Gabe LiedmanAdam Newman and Tony Bakerat at 11PM. The final night of the fest you will be treated to the fabulous comedy of Jamie Lee, Liza Treyger, Whitmer Thomas, Andy Haynes, Richard Bain and Tony Baker at 8:00PM followed by Josh Gondelman, Christian Duguay, Matt Donaher, Brooke Van Poppelen, Allen Strickland Williams and Byron Bowers at 9:00PM. So many comedians, so little time!!!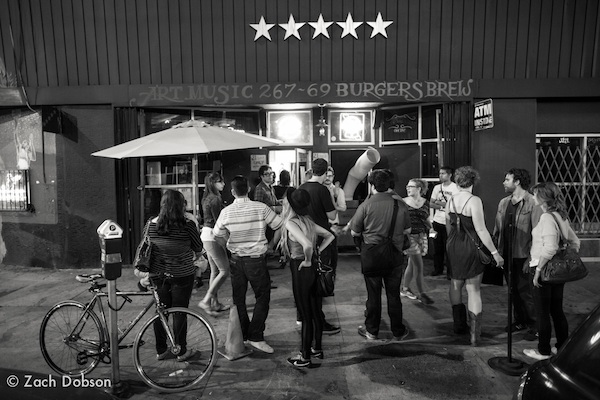 2. Doug Loves Movies (SAT 4:30P)
The podcast king and connoisseur of otherworldly delights, Doug Benson, will be hosting his famously hilarious cinematic podcast Doug Loves Movies at the most optimum time, 4:20 in the afternoon. As always, you can win prizes if you bring a movie themed name tag.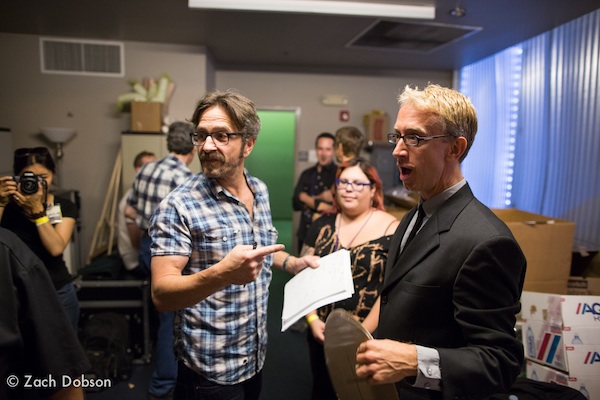 3. Super Serious presents Imaginary Radio Program (SAT 7:00P)
Our friends at the Super Serious Show will be presenting a festival favorite, the Imaginary Radio Program. Just picture a dream-like radio show starring your favorite character and musical comedians performing live songs and more. Host and imaginary DJ Drennon Davis will be your guide through this fantasy playground.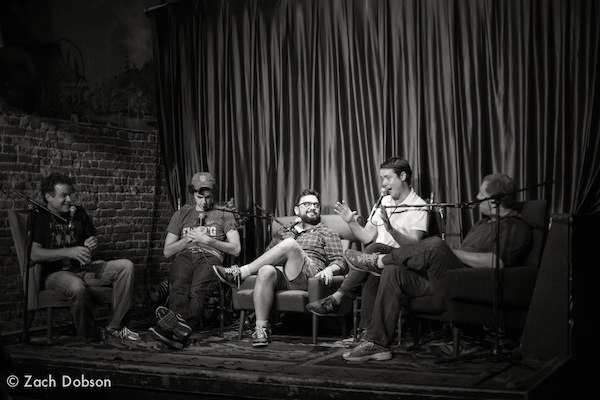 4. KCRW Presents Storytime for Grown-Ups (SAT 8:00P)
This event is an individually ticketed performance and is well worth the 35 extra dollars. Hosted by the Venture Brother's James Urbaniak, Storytime for Grown-ups will feature comedic tales from a star-studded lineup including Steven Yeun (Walking Dead), Thomas Lennon (The State, Reno 911), Andy Daly (Eastbound & Down), Brendon Small (Co-creator of Metalocalypse), Kim Coles (Living Single, In Living Color), Bobcat Goldthwait (Jimmy Kimmel Live!), Kristina Wong (NPR, Totally Biased) and Ken Reid (Risk!). Wowsers!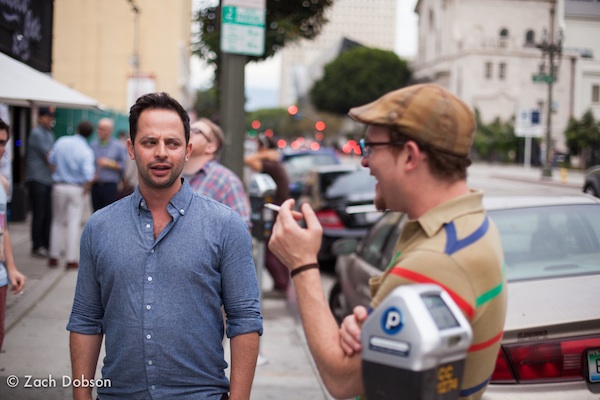 5. The Rodney Dangerfield Award Showcase (SAT 10:00P)
This year the fest has hand picked performers who exemplify the attributes Rodney Dangerfield was looking for when he booked talent for his HBO shows. These are performers who stand out in the sea of up and coming comedy professionals. At the Rodney Dangerfield Award Showcase the "Stand Up Stand Out Award" will be given to one performer who will be judged by a panel of special guest judges (Fred Willard, Dom Irrera, Paul Rodriguez, Joan Dangerfield). The possible recipients include Chris Garcia, Ian Karmel, Eliza Skinner, Tony Baker, Kate Berlant, Christian Duguay and Josh Fadem.
6.CC Studios Presents: Roustabout Live with Kurt Braunohler (SAT 11:00P)
Late Saturday evening Comedy Central Studios will be showing off a brand new program called Roustabout hosted by the super whacky Kurt Braunohler (Bunk). According to the schedule you should "expect sketches, stand-up, interviews, animals, party animals, pelican briefcases, barcode tattoos, a whole lotta hoopla, shenanigans, pick axes, and NO KILLER WHALES." Consider me intrigued beyond words. Guests include Grace Helbig, Joe Mande, Nick Thune, Paul McGinnis Puppetry & super special surprise guests.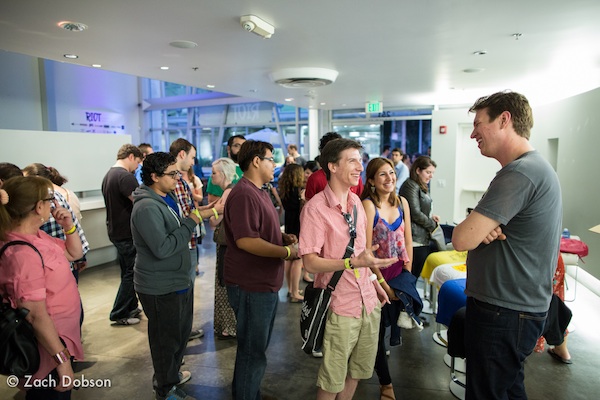 7. Comedy Bang! Bang! (SUN 3:00P)
Star of IFC's program of the same name, Scott Aukerman will be joined by pals Paul F. Tompkins, Harris Wittels and Lauren Lapkus for an hour and half of podcast tomfoolery. Be sure to join in on the fun.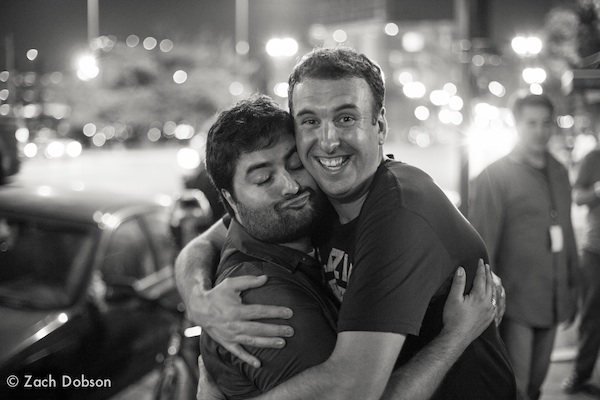 8. KCRW Presents Unfictional Live (SUN 5:00P)
Another individually ticketed show that garner's attention is the KCRW Unfictional Live event. KCRW producer Bob Carlson (KCRW's UnFictional)hosts this night of wildly improbable stories and long-lasting laughs. The comedic cast includes Mike White (Enlightened, School of Rock), Matt Jones (Breaking Bad), Jay Larson (Comedy Central, Conan), Chris Garcia (This American Life), Giulia Rozzi (The Moth), Kurt Braunohler (IFC, This American Life) and Jamie Lee (The Pete Holmes Show).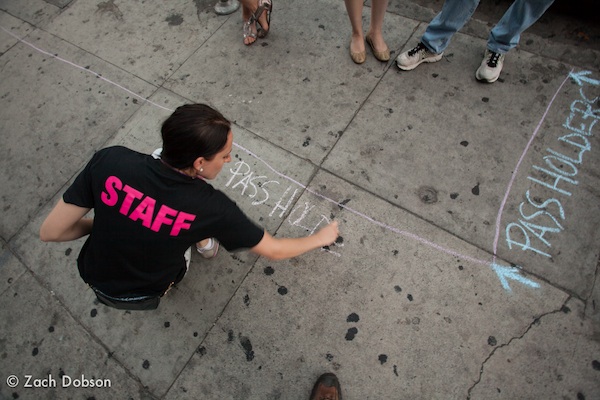 9. Eagleheart Paradise Revisited
The producers and cast of Adult Swim's EAGLEHEART will be screening their dearest episodes and premiering the finale to this season's "Paradise Rising" saga before it airs. There will be a Q&A with Maria Thayer, Brett Gelman, Writer/Director Jason Woliner, Writer/Producers Andrew Weinberg, Michael Koman and more TBD.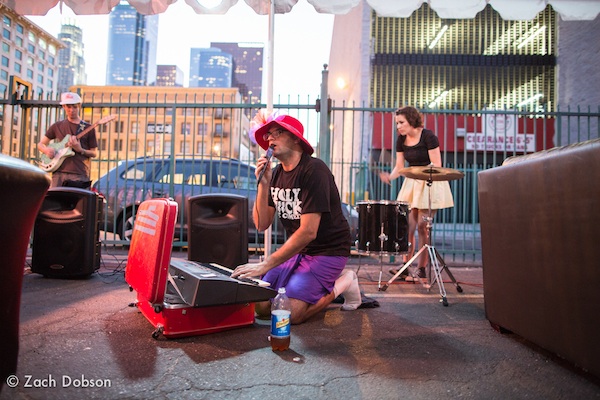 10.THE LOT
And last but certainly not least those of you with Superfan, VIP passes and whatever else gets you into RIOTLA parking lot of fun will experience free beer, arcade games, soda and treats, a photobooth, food trucks, KCRW DJs, astorturf, weird stuff and apparently massive shenangigans galore.
Consider yourself lured.
Mentions: All the madness begins tonight in DTLA at 8pm. Images by © Zach Dobson.