Video Licks: It's All Zucchini Blossoms & "Grippy Bottoms" When JEFF GOLDBLUM Visits Conan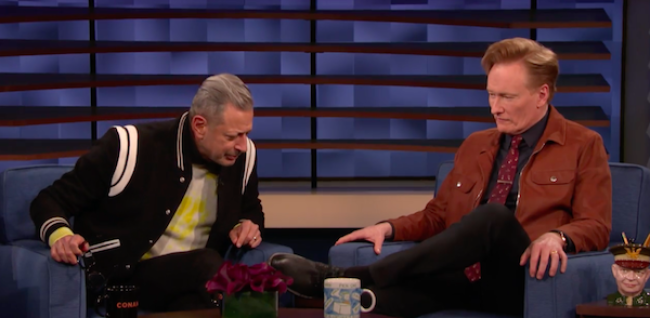 That tall drink of noise-producing water known as JEFF GOLDBLUM made a visit to the CONAN show yesterday. Right out the gate, Goldblum was impressed with the show's new look, sans phony desk. The late night show host has conducted interviews behind the desk for a good 25 years. To that whopping number, Goldblum hilariously comments that he's "never done anything for 25 years." Hmmm… I think the shiny new set temporarily made him forgot about acting. Don't worry, the actor soon switched gears to Conan's evolution of style where Goldblum got into the importance of footwear complementing his look and enhancing a character. He also complimented Conan's style transformation by comparing it to those zucchini blossoms you might consume as an appetizer. Of course, it wouldn't a Goldblum interview without some awkward interactions and pauses, which Conan couldn't help impersonating. Watch as they two compare grippy shoe bottoms! Enjoy!
Mentions: Watch CONAN weeknights 11/10C on TBS.