Quick Dish LA: TONIGHT at The Satellite The GAYME SHOW with Dave Mizzoni & Matt Rogers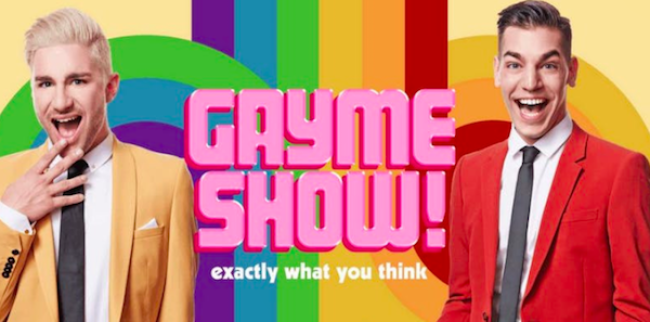 Hey, anyone else spot the monarch migration this week? Those suckers can fly like nobody's business. They may have a short life, but at least they get to be gorgeous in the process! Speaking of being extraordinary, TONIGHT at The Satellite Dave Mizzoni (Logo, New York Comedy Festival, Comedy Central's Comics to Watch) and Matt Rogers (Logo, Las Culturistas, Vulture, Just For Laughs New Faces) bring you everyone's favorite variety/comedy show, the GAYME SHOW! Your hosts have made the trek from NYC to LA for a very special performance where two straight male comedians are put to the test in head to head challenges to uncover who will be named "Honorarily Gay As F*ck" and will reign as "Queen of the Straights!" If you are unfamiliar with the game play, each show the straights are coached and judged by the special guests, a "Woman Who Gets It" and a "Wise Queer." It's kinda like "Jeopardy meets Watch What Happens LIVE" only much more competitive and pop-culturally significant. TONIGHT's show will include this tremendous lineup:
Straight KYLE AYERS (JFL New Faces) & MAX SILVESTRI (Netflix's The Comedy Lineup)
Woman Who Gets It GRETA TITELMAN (The Worst with Greta Titelman)
Wise Queer JOEL KIM BOOSTER (Comedy Central Stand Up Presents)
Who cares about points, when you're learning and laughing to your heart's content. Come be a part of this butterfly-approved event before it goes poof in the sky!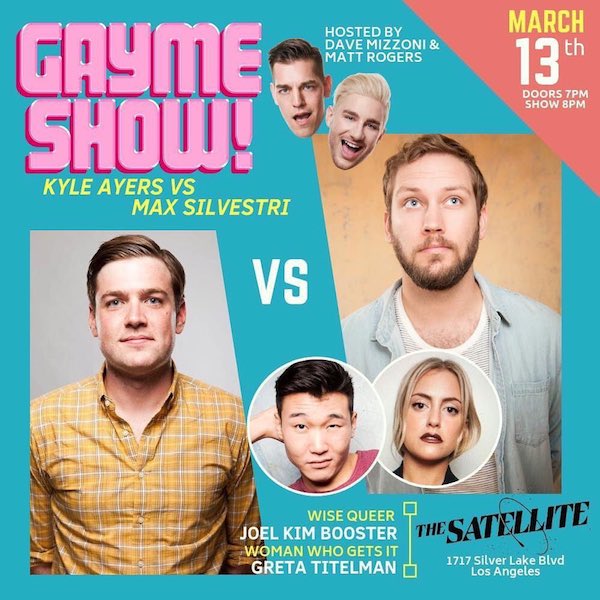 Mentions: 8:30p PT Show / 7:30p PT Doors. $12 advance / $15 day of. The Satellite Theatre is located at 1717 Silver Lake Blvd, Los Angeles, CA 90026.