Quick Dish NY: RIDE OR DIE Oregon Trail Live 4.20 Edition at Caveat
What is it about humans and their schadenfreude? They just can't get enough! Well, get plugged into that matrix of human complexity TOMORROW at Caveat as you are treated to RIDE OR DIE: Oregon Trail Live 420 Edition. Comedy gold! Michael Salgarolo and Kylie Holloway will be hosting this interactive Oregon Trail (drinking) game show based on the educational 90s computer game.
If you don't know what the Oregon Trail is, the super edited version would be it was a wagon route and emigrant trail from the Missouri River to the Oregon valleys that predated the creation of the first transcontinental railroad (and is steeped in history and was chock full of danger & disease). Yes, that pioneer experience was turned into a computer game in the early 70s and the rest is, well, history! At tomorrow's Ride or Die, one lucky audience will listen to REAL stories from the trail, play NON life-threatening hunting and wagon games, and compete for the best Oregon Territory. Will there be prizes? Yes. Will you die of dysentery or cholera or typhoid? *shrugs* Dang, are we fortunate. Be there!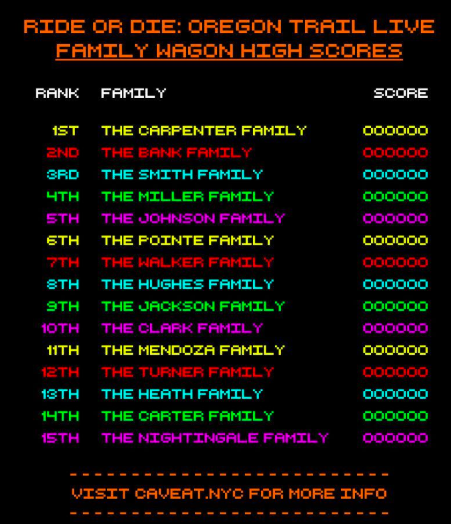 Mentions: Doors 9:00pm / Show 9:30pm. Tickets $15 adv / $20 door. 21+. Caveat is located at 21 A Clinton Street, Manhattan. *Sign up together or be placed in a team of 4-6 players when you arrive. Wagon trains will compete to see who makes it to Oregon alive to win a prize.*