Quick Dish LA: THE NEXT DOOR HORROR Live at The Pack Theater This Saturday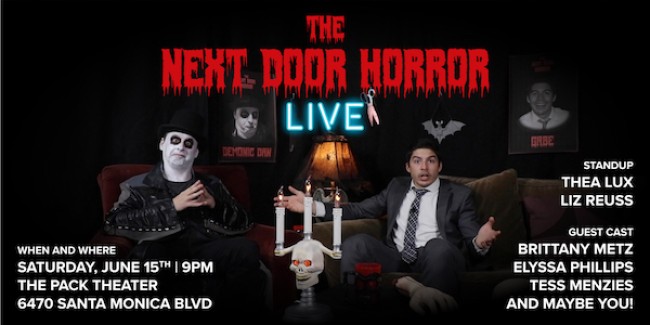 Every week on YouTube they bring you their sketch show (34 episodes and counting) about "an ex-horror host and an idiot with a bank account." Well kids, TOMORROW at The Pack, your scary funny partners in comedy crime will be giving you much more. They are putting it all out there with a stage performance of THE NEXT DOOR HORROR show, live in your face! Double blink. YES, horror fans and those deathly afraid of their own shadows, slither out of your hovels for a "spooky night filled with thrills, chills, movies, guests, stand up and even a chance for an audience member to join Demonic Dan and Gabe on stage for one of Gabe's patented games!" Sounds like a fright-filled blast, right? Your lineup will include:
Stand ups:
Liz Reuss
Thea Lux
Guest Cast:
Brittany Metz
Elyssa Phillips
Tess Menzies
And maybe you!
Hosts:
Gabe
Demonic Dan
They're coming to get you, audience! Watch a bit of their handiwork below…
"Cats just love silk so much." Word.
Mentions: Show 9pm. FREE, pay what you can. The Pack Theater is located at 6470 Santa Monica Blvd, Los Angeles, CA 90038. Look out for new episodes of The Next Door Horror every Friday on YouTube.