Quick Dish NY: Modern Dating Stories with PARTY OF TWO 8.24 at The Pleasure Chest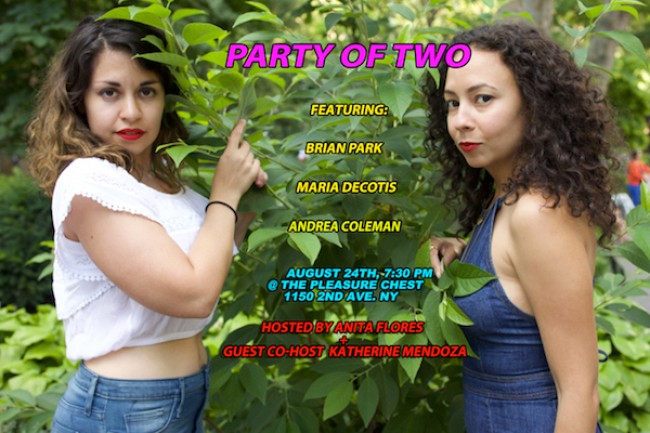 Dating in New York City? Walk in the park… a park filled with soul-crushing dread! Just kidding (not really). Come out to The Pleasure Chest Saturday, August 24th for an evening of dating mirth brought to you by NYC's best and brightest. PARTY OF TWO welcomes co-host Katherine Mendoza to the mix where storytellers & comedians recount their wildest experiences dating in this mad, mad world. This month's show will bring you this funky bunch:
BRIAN PARK (NBC Break Out Comedy Festival, Vice)
ANDREA COLEMAN (BET, Wack or Woke Show)
MARIA DECOTIS (HBO Women in Comedy Festival)
hosted by ANITA FLORES (Awkward Sex and the City, 'I'm Listening' podcast) & co-host KATHERINE MENDOZA ('Mess in Progress' podcast)
Come join this commiseration party!
Mentions: Show 7:30pm. FREE wine & candy! $13 HERE. $15 at the door. The Pleasure Chest is located at 1150 2nd Avenue, New York, NY 10065. Arrive early for primo seating!