Tasty News: It's Christmas in October with This Hilarious Track off MATT KOFF'S Debut Album WHO'S MY LITTLE GUY? Out 11.1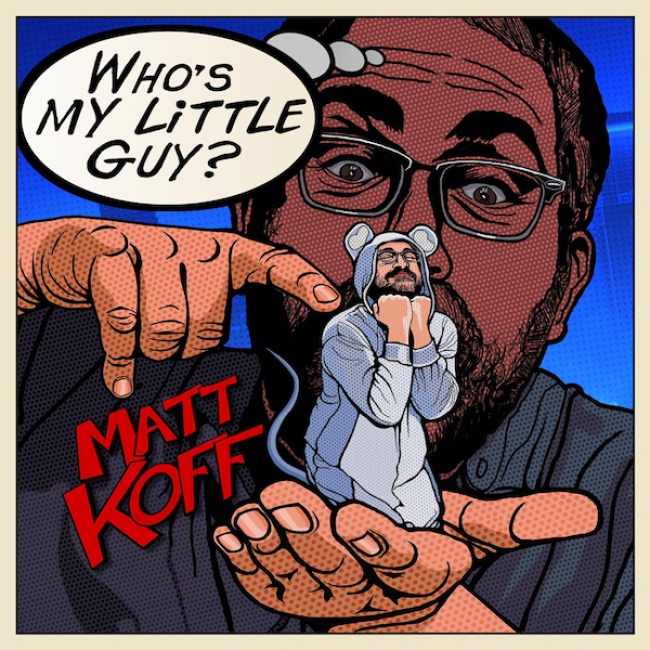 We have a giant, colorfully wrapped present for you today, complete with an embarrassingly large bow. (And, yes, we're using the high quality, high gloss, grid-backed paper, folks!) What we have for you is a track off the debut album from Emmy-winning television writer and stand-up comedian, MATT KOFF, which will be out Friday, November 1st. The album is called WHO'S MY LITTLE GUY? and was recorded at Union Hall in Brooklyn. Kids, with a title like that can you possibly go wrong? Koff is known for his writing on The Daily Show With Trevor and The Daily Show with Jon Stewart. His other writing credits include IFC's Onion News Network, Comedy Central's Onion SportsDome, and the White House Correspondents' Dinner with Hasan Minhaj. Stand-up performance-wise, he's appeared on Adam Devine's House Party on Comedy Central and the I Love the 1880s series on The History Channel, plus he's toured with John Oliver, Michael Ian Black, and Bo Burnham.
Enough with the accolades, and on to the super fresh stuff! The album breaks away from Matt's everyday current affairs material, and give you a more personal touch with experiences ranging from bicycle accidents to neurotic mother tales. In this track called "Christmas Visit" Matt discusses just how awkward it can be to celebrate Christmas when you're Jewish, plus his very valid reason to be fearful of strangers. Enjoy!
Mentions: Follow Matt on Twitter and Instagram. Matt will celebrate the release of Who's My Little Guy? with a show at Q.E.D. Astoria on Friday, November 1, with special appearances from some of New York City's best comedians, including Ronny Chieng (The Daily Show, Crazy Rich Asians), Jo Firestone (The Tonight Show) and Brendan McLaughlin (Best Week Ever).  Get tickets HERE!