Quick Dish NY: INTERNET EXPLORERS Takes on TikTok 10.17 at Caveat
Remember Vine? The "member berries" are strong with this one. You could share multi-second video clips there as much as your insta-fame heart desired. It's was the place where Vine stars like Jake Paul, Logan Paul, Marcus Johns, LeLe Pons, Brittany Furlan, David Lopez, and KingBach bubbled out of the Internet ground. Well, eventually, like all things, it's popularity crashed. However, no need to cry that you have nowhere cool to post because something has sprung up in it's place to crush all lesser platforms… it's called TikTok!!!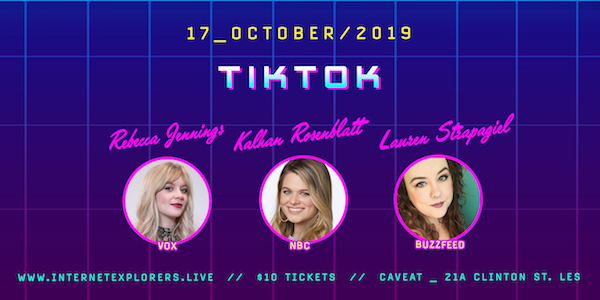 Zuckerberg is quaking in his Instagram boots at the prospects of the Chinese grown behemoth. If you are scratching your head at everything you just read, fear not, because Mark Vigeant will make it all very clear this fall. His meatspace baby, INTERNET EXPLORERS, will be tackling the web's hottest commodity and social app Thursday, October 17th at Caveat. Not only will he and some savvy guests shed light on it's history and cultural impact, but he will "equip everyone with the knowledge of how easy, fun and totally stupid it is." Joining Mark on this TikTok dissection, will be experts
Rebecca Jennings (VOX)
Kalhan Rosenblatt (NBC)
Lauren Strapagiel (Buzzfeed)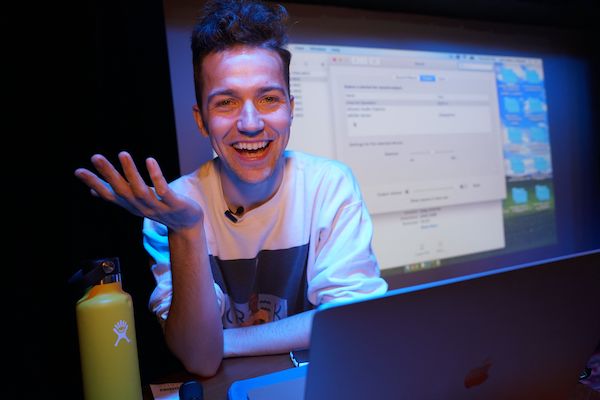 Plus, Mark will be joined by very funny comedians Gabe Gonzalez (Mic), Monique Moses (Broad City, Full Frontal with Samantha Bee), Becky Chicoine (O.S.F.U.G., UCB), Rachel Pegram (The Chris Gethard Show, Full Frontal with Samantha Bee, The Late Show), and BFFs Rollie Williams, Sam Reece, plus live music by Darren Solomon! In the words of your Internet guru, "it's time to figure out WTF [Tik Tok] is," and "what better way to do that then a comedy show in an amazing venue with a delicious drink in your hand." I couldn't agree more! GO!
Mentions: Doors 9:00pm, show 9:30pm. Tickets $10 in advance, $12 at the door. Caveat is located at 21 A Clinton Street, Manhattan. More about Mark & IE HERE.