Quick Dish LA: SCOT NERY'S Family BOOBIETRAP Shows November 29th & 30th in Hollywood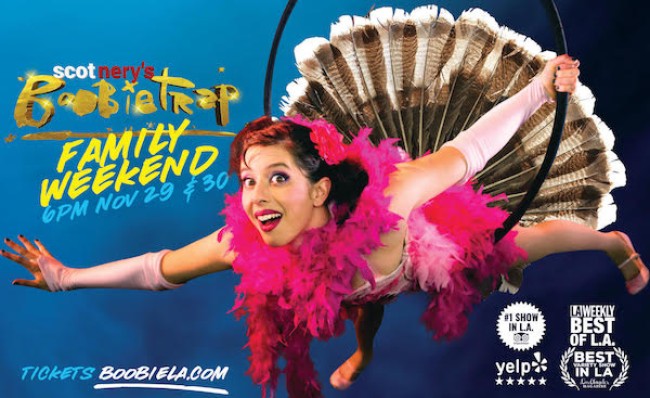 Can you believe SCOT NERY'S BOOBIETRAP is in it's FIFTH year of weekly shows in Los Angeles? Crazy talk! Well, guess what? Things are about to get even more insane with shows that are fun for ALL AGES. Yes, that's right now you can actually bring the kiddoes round for comedy and variety like no other. For TWO SHOWS ONLY, continues that Thanksgiving family vibe as Nery reinvents the magic of vaudeville for a modern audience. The family fun weekend acts will include comedians, singers, contortionists, jugglers, magicians, songs, aerialists, characters, and a live band onstage playing between acts. Former almost indescribable performers have included Reggie Watts, Kate Flannery, Tom Arnold, Steve-O, the world's fastest Etch-a-Sketch artist, Cirque Du Soleil performers, and winning acts for all the top talent shows on TV. Venture out to Hollywood November 29th and 30th for a "stage spectacle" like no other!
Mentions: Doors 5pm with strolling magic, 6pm stage spectacle. Kids friendly tickets HERE. 15 acts! Location: 6555 Hollywood Blvd, Hollywood, CA 90028. Show's been running over 230 weeks in a row!