Tasty News: COMEDY QUARANTINE! A COVID-19 Relief Instagram Livestream TONIGHT on Instagram Live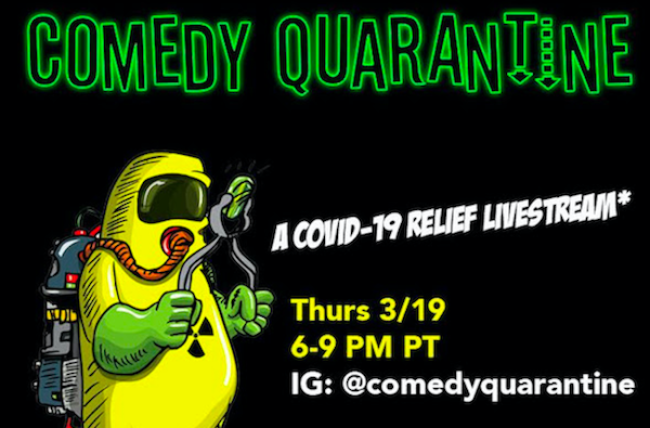 TONIGHT over 40 comics will (safely) come together to perform via Instagram Live to raise relief to aid communities disproportionately affected by COVID-19. During the live-streamed COMEDY QUARANTINE event, the audience is highly encouraged to donate to COVID-19 Mutual Aid Network Los Angeles as well as tip performers (via link) who have donated their time to this worthy cause. To supplement, support and reduce risk to the LA community COVID19 LA Mutual Aid Community Network, an all-volunteer group composed of grassroots organizations, movements and organizers, is committed to organizing material support in the community's most vulnerable: people facing homelessness, the elderly, the young, the immunocompromised, the poor, and others who are unable to restock the basic supplies they and their families need. The organization will be immediately providing grocery and supply deliveries, and, in future, hope to expand services to include running errands, dog walking, childcare, caregiving, and mental health support for those impacted by the pandemic. This is your opportunity to support the performers you love, while aiding the relief efforts against COVID-19. The performers on this bill will include:
Maria Banford, Adam Conover, Chris Garcia, Nick Turner, Jena Friedman, Naomi Epkerigin, James Adomian, Brandie Posey, Jamie Loftus, Joe Kwaczala, Zach Noe Towers, Kat Toledo, Ify Nwadiwe, Maggie Maye, David Venhuiezen, Debra DiGiovanni, Jared Goldstein, Tess Barker, Danielle Perez, Robby Hoffman, Madison Shepard, Jamie Johnson, Ever Mainard, Eli Olsberg, Dave Ross, Georgea Brooks, Atsuko Okatsuka, Paul Danke, Pallavi Gunalan, Lindsay Adams, Emily Fleming, Erin Lampart, Christina Catherine Martinez, Jenny Yang, Zach Broussard, Jessica Michelle Singleton, Alison Stevensonm, Christine Medrano & Hosted by Barbara Gray & Teresa Lee
Do what you can to help support the community while enjoying a little comedy relief. This is the time to unite!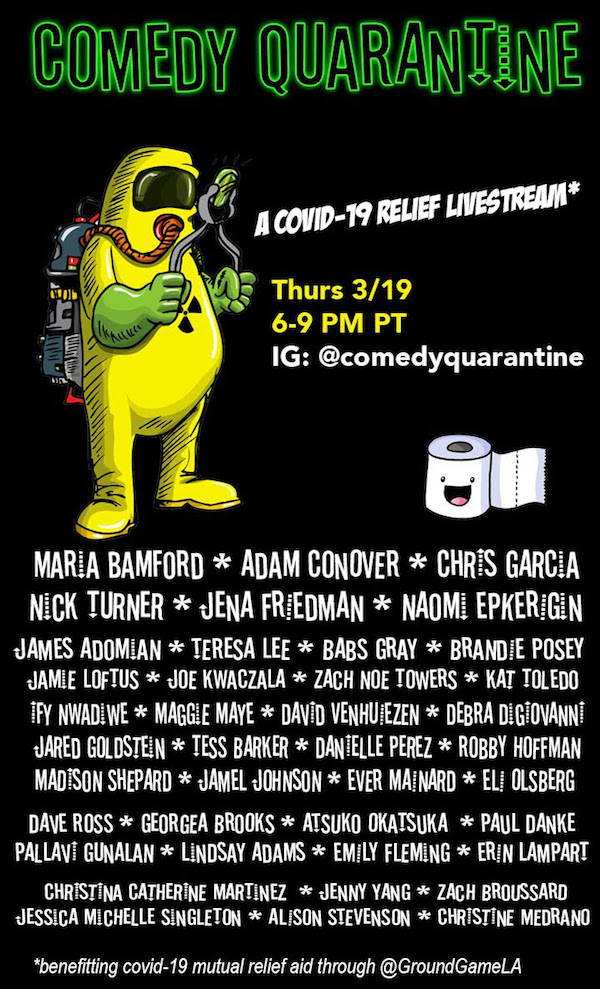 Mentions: Show Tonight 6pm-9pm PST on Instagram Live @ComedyQuarantine. Donate at bit.ly/mutualaid. Ground Game LA is an all-volunteer grassroots group operating in Los Angeles, connected with multiple coalition partners throughout LA. Learn more about Ground Game LA on FB/Twitter/Insta @groundgamela.