Video Licks: "Independence Woman" is The Netflix Documentary Parody You Need Right Now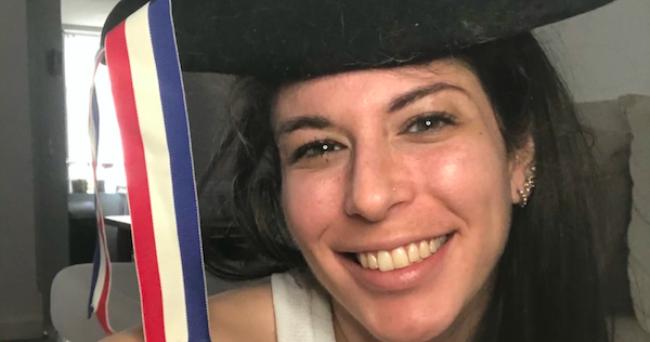 Who says you can't make quality comedy videos during a pandemic? In this clever Netflix doc parody from Philly based comic and law student Hannah Trav, a love for American history leads down a nefarious road. THIS is the story of "Independence Woman" Kendra Cohen-Ross, a patriot whose "National Treasure" like obsession for the past finds her in all kinds of red, white, and blue trouble. Currently behind bars, the faux doc presents Kendra's historic tale by blending family/co-worker/witness/law enforcement interviews, location shots, and childhood photos with that raw realism you've come to expect from the popular streaming platform. The doc was filmed from the homes of nine super funny comedians because, yes, social distancing is still a thing and this is a great use of quarantine time. If the doc detail that Kendra is married to a man that knits doesn't seal the deal for you, you are just not an American. Enjoy this hilarious documentary style parody now!
This parody star Alise Morales, Blake Wexler, Carolyn Busa, Chris Esperance, Danny Groh, Dan Vetrano, Hannah Trav (HT), Jonathan Lalu, Nicole Phoenix, and Pete Steele. It was written, produced, edited and directed by HT. Hannah's brother provided the original score.
Mentions: Hannah was a finalist in Helium Comedy Club's Philly's Phunniest Contest 2019. She was accepted into the postponed 2020 HBO Women in Comedy Festival. More about Hannah HERE & check out her podcast "Keep You Posted" during your copious amounts of time at home.