Quick Dish: TONIGHT Ease Into The Weekend with IMPRO(vs)TANDUP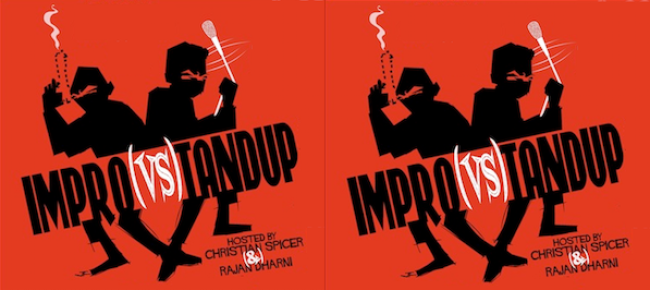 This very evening, April 10, at UCBTLA you will see the best improvisers and stand-up comedians face off for a slightly competitive cross-discipline matchup. Yes, improvisers and stand-ups switch places and try out what the other does best. The audience votes (kinda) and at night's end a winner is awarded the Comedy Cup of Gold (which doesn't exist). It's IMPRO(vs)TANDUP and it's glorious!
Battling tonight, the cross-discipline roster includes:
Improv by the outstanding DASARISKI (Robert Dassie, Rich Talarico, and Craig Cackowski)
AND
Stand-up by the incredible: JON DORE (Conan, Comedy Central, HBO) & BYRON BOWERS (Comedy Central, Eric Andre Show, Just for Laughs)!
Hosted by Rajan Dharni (Spike TV, North Carolina Comedy Arts Festival) and Christian Spicer (What's New, DLC).
This show will be amazeballs plus cheese (unless you are lactose intolerant)!
Mentions: Show at 8:00pm. Buy your tix HERE. If you're ever in New York City, check out IMPRO(vs)TANDUP at UCB East hosted by Boris Khaykin.