Quick Dish Quarantine: 10.15 HOFF'S PUBLIC DOMAIN HORRORFEST Presents Roger Corman's Bloodthirsty Delight "Not of This Earth"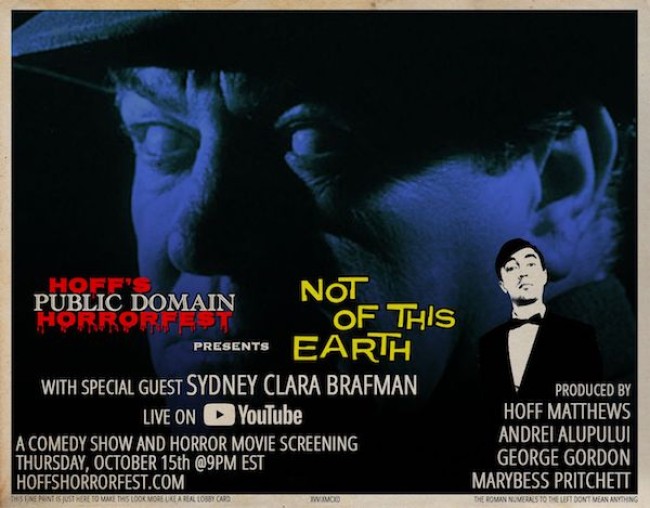 IMDb describes Roger Corman's 1957 sci-fi flick "Not of This Earth" as
an alien agent from the distant planet (Davanna) is sent to Earth via a high-tech matter transporter. There, he terrorizes Southern California in an attempt to acquire blood for his dying race, the result of a devastating nuclear war.
You know, as crazy as 2020 has been, this seems like a total possibility! So can we call the film a documentary? October 15th in celebration of "HOFFTOBER," HOFF'S PUBLIC DOMAIN HORRORFEST brings you another exciting screening of a cult horror classic. This time host Hoff Matthews welcomes special guest, award-winning horror filmmaker and board member of the non-profit organization NYC Women Filmmakers, Sydney Clara Brafman ("The Only Thing I Love More Than You Is Ranch Dressing") to join in the cinematic fray. They will get their claws on Corman's ode to extraterrestrial humanoids, starring Paul Birch, Beverly Garland and Jonathan Haze. Continuing in the tradition of the month-long series of FREE, weekly screenings, the evening's entertainment will include brand new comedy segments, terrifying trivia, and more blood-curdling fun! Don't miss one sip of this comedy show/horror movie screening cocktail. *Slurp*
Mentions: FREE Show 9pm ET – 11pm ET. Watch on YouTube. More info at "Hoff's Horrorfest" Website. Watch previous livestreams HERE. Be sure to the show on Instagram, Twitter and Facebook.