Quick Dish Quarantine: 'WOULD YOU RATHER? with Maggie & Andre' Double-Feature Live & Online This Week!
As far as pandemic entertainment goes, it appears we are in a quirky limbo area, between shows in the real world and those online. Well, this week, you can experience the best of both worlds with some WOULD YOU RATHER COMEDY. TOMORROW, May 11th enjoy a digital show with your hosts Andre Medrano and Maggie Maxwell featuring guests:
John Milhiser (Saturday Night Live, Nickelodeon)
Sophie Santos (Jimmy Kimmel Live!, Bravo)
Steve Vanderploeg (Rotating Tap, Comedy Works)
For those in the Brooklyn area, THIS Thursday May 13th, you can attend WYR live and in-person at Friends and Lovers BK where your hosts will ask very funny people the very tough…question, a plethora of ways. Yep, it will be these real people hysterically interacting with your engaging host duo: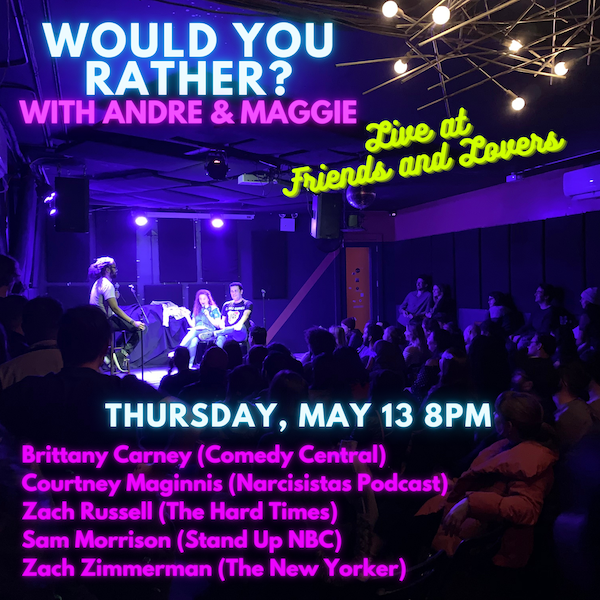 Brittany Carney (Comedy Central)
Courtney Maginnis (Narcisistas Podcast)
Zach Russell (The Hard Times)
Sam Morrison (Stand Up NBC)
Zach Zimmerman (The New Yorker)
Now the real question is whether you'd rather see it filtered online or live in your COVID-free FACE? Seek more answers below:
Mentions: Tuesday's digital show 8pm EST on Comedy Hub's Twitch. Thursday's in-person 8pm at Friends & Lovers in Brooklyn. Get show updates on IG @wyrcomedy. Location deets: 641 Classon Ave, Brooklyn, NY 11238. $10 Tickets HERE. Limited seating.