Quick Dish Quarantine: Another Stellar Week of SELF CARE COMEDY Starts TONIGHT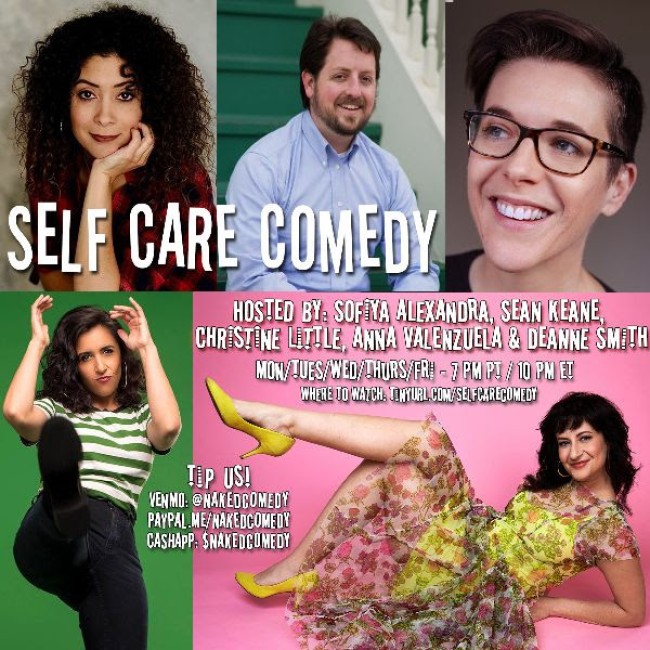 Your week nightly live comedy show of choice is charging into the week as fast as space chunk hurtling towards Earth. The platform your SELF CARE COMEDY will be flying in on is Zoom and the destination is, well, ANYWHERE you choose to view it, be that a commode at the Starbucks or a pool in the desert. This week's show will, once again, feature the bevy of hosts that is DeAnne Smith, Christine Little, Sofiya Alexandra & Sean Keane. The schedule is listed below along with a handy dandy image of participants:
Monday 5.10 Deanne Smith hosts Andrew Orolfo, Myq Kaplan, & Greg Edwards
Tuesday 5.11: Sofiya Alexandra hosts Lydia Popovich, Zilla Vodnas & Matt Lieb
Wednesday NO SHOW!!!
Thursday 5.13: Christine Little hosts Jasmine Ellis, Judah Friedlander, & Chinedu Unaka
Friday 5.14: Sean Keane hosts Clare O'Kane, Alison Stevenson, & Sara June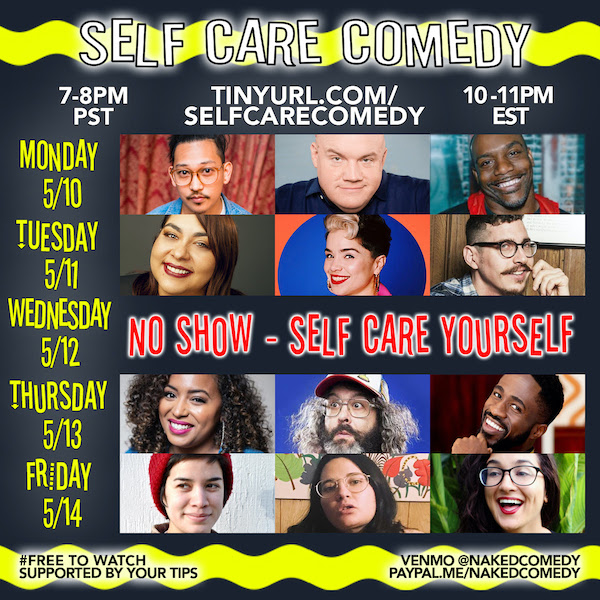 My, oh my, is that a fueled rocket of hilarity ready to launch! Don't miss out!
Mentions: Show Mon/Tues/Wed/Thurs/Fri @ 7 PM PT / 10 PM ET. $10 per show tip suggestion. You can tip/donate (so the show can pay the performers, hosts & producer) via: Venmo @nakedcomedy;
PayPal.Me/NakedComedy; CashApp $nakedcomedy. ZOOM: https://us02web.zoom.us/j/84027069654, Meeting ID: 840 2706 9654.