Icing: The Producers of THE SUPER SERIOUS SHOW Give Us The 411 on Their Virgil Return 9.16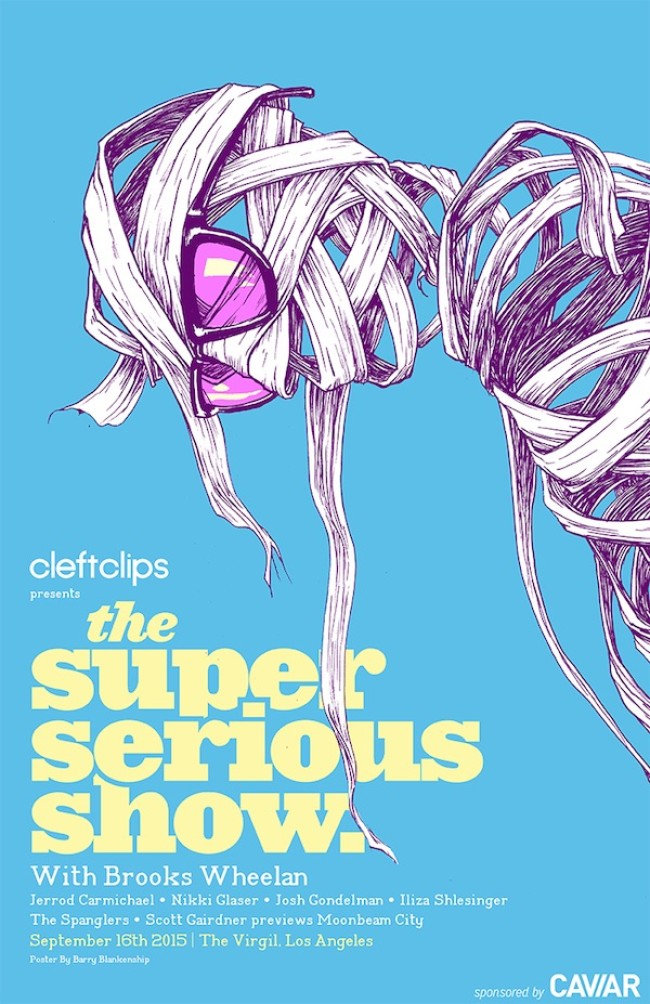 The Super Serious Show has been busier than artisanal bees before the farmer's market. This Summer they celebrated their fifth anniversary and performed at Festival Fringe in Edinburgh. This month, September 16th to be exact, they're back at The Virgil in East Hollywood! Their super special guests will include Brooks Wheelan (Saturday Night Live, Conan, @midnight), Nikki Glaser (Nikki & Sara Live, @midnight), Jerrod Carmichael (The Carmichael Show, HBO), Josh Gondelman (Emmy nominee Last Week Tonight), Iliza Shlesinger (Last Comic Standing, Netflix), and The Spanglers (SF Sketchfest). In addition, Scott Gairdner will preview his new animated laugh inducer, Comedy Central's Moonbeam City, which stars Elizabeth Banks, Rob Lowe, and Will Forte. It is a parody comedy of those classic 1980s cop shows you watch in re-runs religiously. Sound like an amazing show, right? Well, we talked to the producers of SSS, CleftClips' MANDEE JOHNSON and JOEL MANDELKORN, about their return to LA and everything else they have up their sleeves. Enjoy!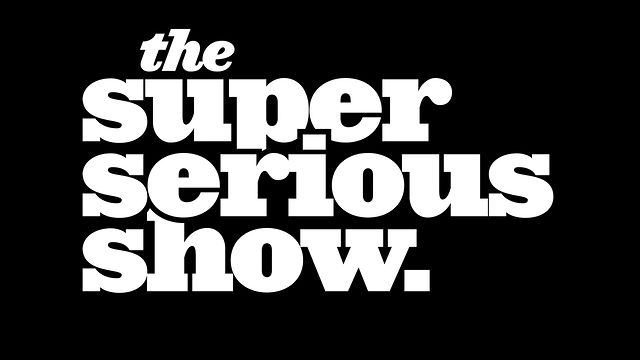 COMEDY CAKE: Tell us all about The Super Serious Show's Festival Fringe experience. What was the reception like? Would you recommend the fest to other U.S. shows?
SUPER SERIOUS SHOW: This year we snuck in and just did one late show at Edinburgh Fringe. It was partly just an excuse to get some of some of our International comedian friends together for an hour or so of mischief in a yurt in a square. We had a great crowd, with only a few Americans, definitely on the curious side but very welcoming. Many thanks to The Stand who graciously gave us a venue for the show. It's not always the case over at bottom-line minded Edinburgh Fringe but the people at The Stand were great.
We definitely wouldn't recommend full Edinburgh Fringe runs to any multi-performer shows out there. The pros/cons list just doesn't shake out in favor of a concept or showcase style format. On the comedy side, Fringe's strength is really for individual performers or groups looking to get some solid comedy reps over a month and possibly gain some footing with U.K. audiences and entertainment types. Despite the drawbacks, it's been an honor and a treat to connect and work with a lot of international performers who we wouldn't have necessarily known without our Fringe experience.
CAKE: What acts might we be seeing stateside in the future based on your Fringe trip?
SSS: Well, Sam Simmons continues to be insane – in the best way – and is now winning awards left and right. He's one of our absolute favorites and it's been an honor to work with him a little during his Los Angeles visits. He'll probably continue to work in Los Angeles and beyond. Everyone should seek him out. We're big fans of the rest of our recent Super Serious Show Fringe lineup: Aisling Bea, Lou Sanders, Daniel Sloss (already a few Conan appearances under his belt) and Max & Ivan. Everyone should check out Max & Ivan's sketch comedy work, especially their infrequent but amazing Wrestling festival extravaganzas.
CAKE: Did you get to enjoy any Fringe shows outside of producing your own? Do tell.
SSS: We never get to see as much as we want but did get to see a few great Fringe shows… Katia Kvinge and her great character work, Lolly was also a great character find, Lindsay Benner's show Book of Love had a lot of heart and also juggling. Zoe Coombs Marr's Dave show was one of the more punk rock things we saw. Felicity Ward's full show was a force, true craftsmanship and a lot of heart. The Irish sketch group, Foil, Arms & Hog are some of our favorite comedic performers around. They're so smart with how they create a full show and they keep getting better and better.
CAKE: With the show returning to The Virgil September 16th, what comedic insanity can we that evening?
SSS: We have a lot of first timers at our September show, which is always a treat. Brooks Wheelan, Josh Gondelman and Nikki Glaser. We're in good hands with Brooks Wheelan running things, too. He pretty much demands you to have fun when he performs. Plus, some of our favorite oddballs The Spanglers are returning. Honestly have no idea what they're doing but pretty sure it'll be very serious and life affirming.
CAKE: Super Serious will be previewing Comedy Central's new animated series "Moonbeam City." Can you tell us a little about the show and what we can look forward to.
SSS: We've stayed in touch with Scott Gairdner over the years and continue to be a big fan of his work from his time at Funny Or Die and Conan and now Comedy Central. He's one of favorite directors, definitely on the odd side of the comedy spectrum. Excited to see that play out in an animated comedy series like Moonbeam City.
CAKE: Super Serious show celebrated a 5th birthday this year. What were the most memorable moments of that celebration? Are you already planning for 2016 shows?
SSS: We're not quite there for 2016 yet. Working on our last few of 2015. Boring answer alert!
CAKE: Who are your picks for comedians to watch before year's end?
SSS: Don't make us pick favorites! We will put it out there that Eric Dadourian is a true treasure in the Los Angeles comedy community. He's been at it for several years now and keeps getting better and better. He admirably guest hosted for Hot Tub earlier this year and has been personable, silly and hilarious every time he's performed at our shows this year, no matter the circumstance. And any other shows we see him at, including his hosting gigs at the monthly Whatever show and the weekly Good Sauce. Since he's a great rep of the Los Angeles indie comedy scene, we'll shout him out here.
CAKE: What other projects do you have on the horizon?
SSS: We'll be producing Funny Or Die's Austin events during SXSW again next March.
In addition to the regular Super Serious and Hot Tub shows locally, we're considering producing another Toasty show, too. It amazingly went off pretty well this Summer at Outfit Home. It's comedians giving toasts to strangers at a party.
CAKE: Cake or pie? What kind and what would you do to get a slice now?
SSS: Pie! Not even close. Pretty much any fruit pie will get the job done. The crust should be on point, though.
Mentions: Buy tickets for the September 16th Super Serious Show HERE. $7 Advanced Online | $10 At-the-door (cash only) Doors, music, Happy Hour 7pm. Show 8pm. The Virgil is located at 4519 Santa Monica Blvd, Los Angeles.