Icing: EMILY HELLER On Why 'Good For Her' Is Great For You
EMILY HELLER's debut stand-up record, Good For Her, drops November 13th on the Kill Rock Stars label, which makes perfect sense. She's badass and supremely hilarious, her observational style a glorious balance between acute self-deprecation and natural swagger. You've probably seen her perform on late night or all around the country. She also hosts a weekly comedy show at UCB called Fresh Out, she acts on TBS's Ground Floor, and she cohosts an amazing podcast called Baby Geniuses with artist Lisa Hanawalt. You writing all this down?
About a week ago Emily and I met up over breakfast to chat about Good For Her and she opened up about choosing material for the new record, authenticity on stage, why googly eyes are so funny, and what we can look forward to at the album release party at Meltdown Comics. Enjoy!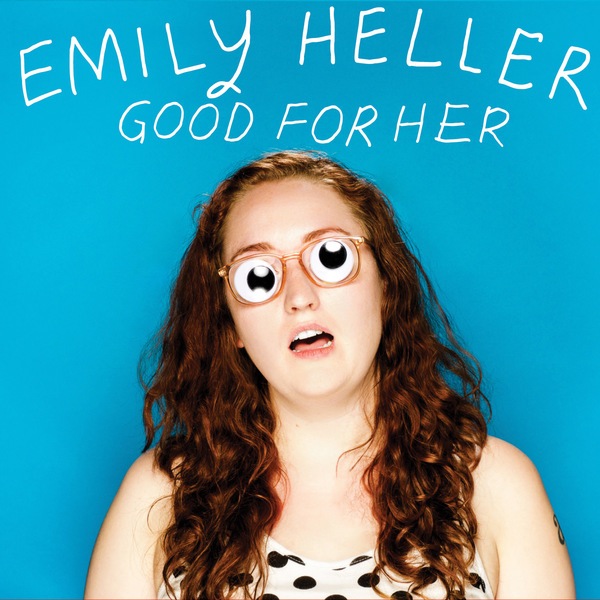 COMEDY CAKE: What does the title 'Good For Her' mean?
EMILY HELLER: It's a quote from a joke that I tell on the album. Someone is being condescending toward me in the joke, which I thought was appropriate for the title of the album. It's also a recommendation on who the album is good for, for her [laughs]. So it had a little bit of a double meaning, but not really. I just thought it was a fun title.
CAKE: I love the album cover. Why are googly eyes so funny?
EMILY: I don't know. They're always just going to be funny. It's so hard to put your finger on it. It makes you look crazy, it makes you look like you're looking in different directions, and anything you put them on instantly becomes personified. I am really happy with how it turned out. I have googly eyes on my front door at home because we had so many leftover from the shoot. There's no reason not to put them on everything. You're not going to regret it.
CAKE: I love that Kill Rock Stars is actually putting googly eyes on the record.
EMILY: Yesss. It's so cool. They're the best.
CAKE: What's that like being on Kill Rock Stars?
EMILY: I can't believe they're putting my album out. They were the only people I wanted to do it with, I didn't even talk to anyone else about it. I basically e-mailed them saying, "Hey, so I am going to put out an album and I want you to do it," and they said, "Great." So it couldn't have gone better. I went to their offices in Portland and they're one of the last truly independent record labels. It's really just cool to be on the same label as Sleater-Kinney. Kill Rock Stars has been awesome so far and they have really good taste in comedy and music. They've been really supportive of everything I wanted to do.
CAKE: When putting together material for your debut was it all new material or more of a culmination of your career thus far?
EMILY: This was definitely a culmination. It was about giving a home to all these jokes I've been carrying around for years that I really love. There's a bunch of jokes I've never told on TV, a lot of jokes that were my favorites, and also jokes that I felt I wouldn't be able to tell anymore. There's a lot of material about being single, and I'm not single anymore. I wanted to do something with the material because I'm really proud of it and I stand by it, but I can't very well tell it on stage anymore and then also tell jokes about my boyfriend. I want who I am on stage to be authentic to what I'm actually going through in my life.
CAKE: You recorded it in New York City where you moved away from a couple years ago. Have you noticed any changes in your comedy since moving to Los Angeles?
EMILY: I definitely think it's made me worse at comedy [laughs]. It's just the nature of working. When I was living in New York, stand-up was all I was doing. It was how I was making my living. Now that I'm in LA, I'm doing TV work and other things that have sort of been getting in the way of getting on stage. I'm not cycling through material as quickly, but the day-to-day of my life is just different. I feel like I've grown up a lot so I hope that's reflected in what I do on stage. For example, it feels a little disingenuous to talk about being a mess because I don't feel like one anymore. My comedy changes as fast as I do, and that's not always constant.
CAKE: We've talked before about your podcast and you also write and act as well. How do you balance all these pursuits?
EMILY: It's hard. I've been able to work on some jokes, but at a much slower place. I don't know how creative concentration works for other people, but for me there's one thing I'm trying to create at a time and that's where my mind goes if it's given a little slack in the leash. I've definitely had to carve out more time for stand-up, but the nice thing about TV work is that it's kind of seasonal. I was acting on that show [Ground Floor, TBS] and then I had all spring to go on tour, work on jokes, and get ready for the album recording. Then when I came back to LA it was back to work basically. I kind of divide my year into times when I'm actually working on my stand-up and times when I'm working on everything else.
CAKE: You host Fresh Out, a weekly stand-up show in LA. Is that a place to try out new stuff?
EMILY: It's definitely good motivation to do new things because we have a lot of repeat audience members. It is nice to know that if I have a new bit I'm working on I can do it there. It's really good to stay limber as a performer. Getting on stage even if you're not doing a straightforward set is really helpful.
CAKE: In an interview with Vulture recently, this sentence stuck out to me, "I'm learning what I want to do by trying a bunch of different things." Is there anything new you're doing soon that you haven't done before?
EMILY: Right now I'm pitching a show that I created so that's something I've never done before and it's been very terrifying. Once I started doing it though, it's gotten easier and easier. Who knows if anyone will buy it, but if they do, it will be a completely new experience. So that's cool. Rebuilding my act after putting out an album is new for me too. I feel like I'm starting over in a bunch of different ways, like who I am and what I want to talk about on stage is all up for grabs. In that sense it's exciting to think about what's next, but I don't know if I've figured that out yet.
CAKE: What are going to do the day the album comes out?
EMILY: Ian Karmel and I are having a joint album release show at Meltdown on November 13th at 7pm. We haven't promoted it yet, but we will. Ian's album is coming out the same day, also on Kill Rock Stars. We're going to ask a bunch of other comics to be on the show, but I'll also be at work that day too. So I'm going to go to work, do an album release show, and then hopefully just have a party. So yeah, that's the plan.
Mentions: Pre-order Good For Her now! Get tickets for the release show at Meltdown Comics on November 13th at 7pm. Follow Emily Heller on Twitter. Check out more of Emily Heller on her site. Listen to the Baby Geniuses podcast. Album cover and promo image taken by Jean Ho.