Tasty News: T.J. Miller's THE GORBURGER SHOW Coming to Comedy Central 4.9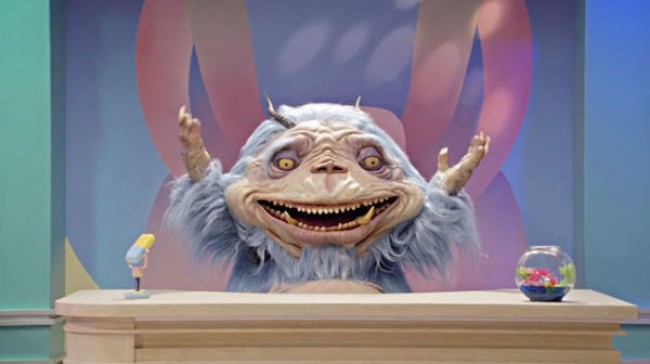 He's baaaaaack! How does Gorburger even self-identify? Who knows. Everyone's favorite hulking blue extra-terrestrial is coming to Comedy Central this spring. The intergalactic show is set to premiere Sunday, April 9th at Midnight ET/PT. The Gorburger Show was ordered to series in January and will soon takeover cable just like an alien takes over a Japanese TV variety show. Once the enslaving staff and taking over as supreme host business is over, Gorburger (voiced by Silicon Valley's Miller) will include musical guests, strange games, strange happenings, and celebrity interviews with folks like Rob Corddry, Larry King, Tig Notaro, Dr. Drew Pinsky, Reggie Watts and more.
The show was originally a Funny or Die digital series and developed into an HBO pilot in '15. The show is just one of many Comedy Central series to have gone from short-form to long-form. Gorburger is created by Ryan McNeely and Josh Martin, who also write, direct, and executive produce the series. T.J. Miller, who voices and puppets the title character, will act as executive producer. The eight-episode season is executive produced by Sean Boyle for Funny Or Die and produced by Caviar.
The Gorburger Show will also be available via cc.com on the day each new episode premieres to fans who authenticate via their cable or satellite provider, as well as via the Comedy Central App. Episodes will also be available the day after air on iTunes, Amazon Video, VUDU, Microsoft Movies & TV, Verizon Multi-Screen, Google Play, Frontier Communications and Sony Interactive Entertainment. We can't wait!
Mentions: You will be able to get all your Gorburger updates Facebook, Twitter, Instagram and Comedy Central's channel on Snapchat Discover.