Video Licks: "Be Our Guest" Has New Meaning in Uncle Function's BEAUTY AND THE BOWL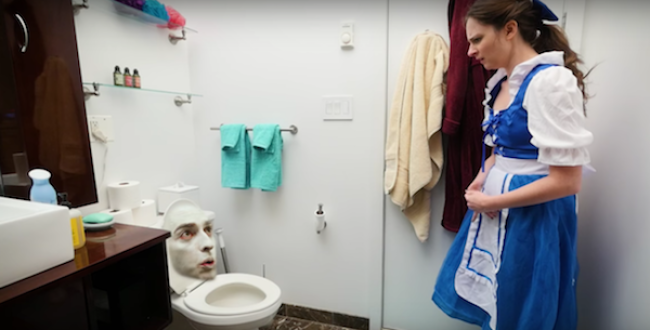 It just wasn't enough for Beauty and the Beast's Belle to be imprisoned in an enchanted castle by a fearsome suitor. Now she must bear witness to the Beast's lesser-known anthropomorphized servants. In this sketch from Gianmarco Soresi's sketch team Uncle Function, Soresi plays Mr. Peabody Flushington, the one unlucky toilet in this Beastly household to meet Belle in her most dire hour. Enjoy Beauty and the Bowl!
This sketch was written by Gianmarco Soresi and features Jessica Frey as Belle. Uncle Function is Chris Cafero, Russell Daniels, Douglas Goodhart, and
Gianmarco Soresi. This sketch was directed/edited by Andy Zou.
Mentions: Watch more hilarity from Uncle Function HERE!