Icing: We Talk To The Ladies of IN THE SERVICE About Their Upcoming LIVE Show 7.17 at The PIT, Restaurant Service & More!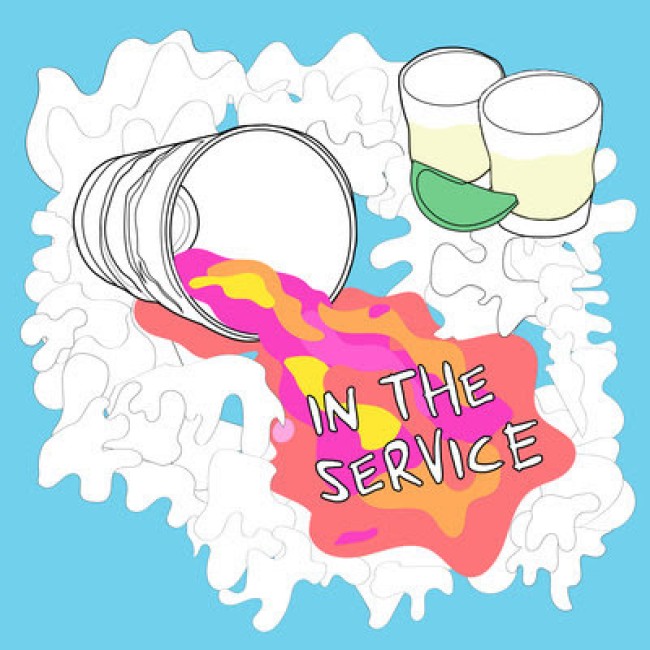 I've had my fair share of jobs, but I never delved into the food service industry. Having little knowledge of the intricacies of said profession, I've always been curious about what it takes to deliver restaurant guests the ultimate in quality eating experiences. The new podcast IN THE SERVICE humorously satisfies that curiosity, giving it's audience "the good, the bad, and the ugly" of this often thankless industry. Hosts "Kath,", a practicing lawyer by day and bartender by night, and "Jan," a food server and comedy performer, bring you their front of the house perspective talking to a special guest each week, who is currently or has previously worked into the industry. There is no plate left unturned in this podcast, and some of the stories are truly outrageous and sometimes horrifying, but always entertaining. We talked to "Kath" & "Jan" about their sublime NPR voices, their talented guests, and their upcoming show at The Peoples Improv Theater Monday, July 17th, featuring special guests Keith Malley (Keith & The Girl), Zahra Tangorra (High Five Girl), Jay Neal (Chef De Cuisine at Riviera Catering) & more!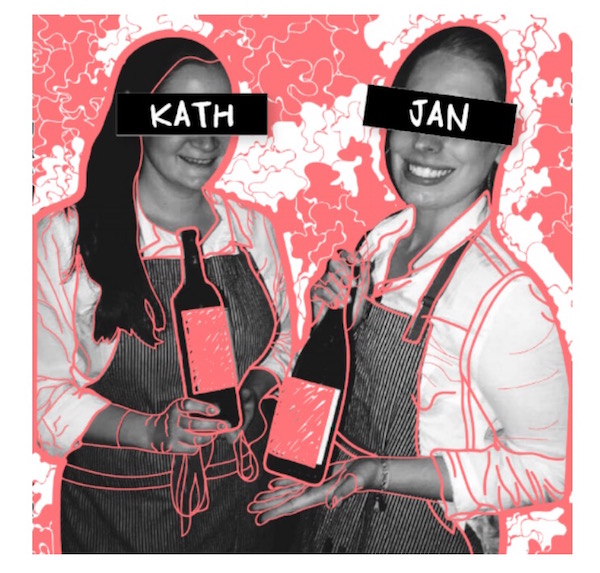 COMEDY CAKE: Would you two ever consider working at NPR? When I heard the first episode of the podcast I instantly considered you candidates for radio work. Am I the only one who hears it?
KATH: Definitely! I love NPR and am a regular listener to This American Life, TED Radio hour, and Invisibilia. I grew up listening to NPR with my dad and still tune in to Car Talk occasionally these days. It would be an amazing opportunity to be a guest on any of the NPR shows, and to work at NPR sounds like a dream.
JAN: Yes! I love NPR and think it's amazing that their network also includes podcasts that we all know and listen to. I definitely was a Serial fanatic when season 1 was out and of late, I've been loving, 2 Dope Queens and It's Been a Minute with Sam Sanders. We would be thrilled to connect, collaborate and work with NPR!
CAKE: What drew you into the serving business, aside from a paycheck? What motivates you to continue working in the industry, besides a paycheck?
KATH: Passion. I was drawn to this industry because I am passionate about food, wine, and creating memorable experiences for guests. I love meeting new people all night long, and at every new table or bar seat. I thrive on the instant gratification I receive from deciphering what kind of drink or experience the guest is looking for and their satisfaction when I meet or exceed their expectations. Imagine, you walk into a bar, the bartender approaches, and you confess you don't know what you want. Then, through a litany of questions about your preferences, the day you've had before you got here and the night you have ahead of you, the bartender gets to work concocting your beverage. Soon, a drink is crafted just for you and placed in front of you to enjoy. Take a sip, smile, and relish in this one of a kind experience that was created just for you. That's what brings me back to this industry time and time again.
JAN: I have grown up being lucky enough to dine out in restaurants fairly frequently. Automatically, I grew up with a love of the restaurant industry and that passion has stayed within me. I like to mirror the experiences I've had as a guest and loved and be able to create an equally memorable evening for guests that I am serving. I also love people watching and just being able to observe human behavior. As a writer and performer, I really love being able to watch people and their mannerisms with me, their friends and anyone else who touches their table. A lot of characters and ideas are born from me watching my guests at work.
CAKE: What have been some of the most interesting things you've learned from guests on the podcast?
KATH & JAN:One of the most interesting things we've learned is something we've known all along, really. That working in a restaurant or in the industry in any way automatically creates this camaraderie with others who work in the industry. It's like a secret club, and only those who have survived the rush, weeds, and rude guests know about it.
It is like a secret club with a secret handshake! There is definitely the look of recognition when a guest is telling a story on the podcast about something that happened to them which is a lot of the time, similar to something that has happened to one of us. Aside from the camaraderie factor, we find that one of the most interesting things we've learned from guests is that all of our guests agree that everyone should work in a restaurant for at least 6 months of their life. Personally, we think that a lot of life lessons can be learned in a restaurant – how to work with all kinds of different people from varied backgrounds, how to multitask and how to be a pleasant person when faced with difficult situations.
CAKE: Is it difficult keeping some of your guests anonymous?
KATH & JAN: YES, sometimes. It's hard to call your friends by different names especially when you've known them for years.
CAKE: How did the idea for the podcast come to fruition?
KATH: The idea for In the Service came about as we were rehashing the horrors of a particularly difficult night after work. Per usual, we went to our after work bar and vented over cheap tequila and beer. I posed the idea to 'Jan' as a way for us to share our experiences with people who we know would appreciate them most, our friends and other people in the industry. We decided to use the aliases, Kath and Jan, so we could share true stories with listeners. In the Service has evolved to incorporate guests on the show who are either currently or have previously been in the service industry to share their experiences. Our goal was to make In the Service a podcast that everyone could enjoy- people who have been in the service (who can laugh and commiserate with us), people who haven't been in the service (who may be shocked about what happens behind the scenes), and for people who love food and going out to eat.
CAKE: How has the podcast been received so far?
KATH & JAN: So far so good! We have recently received a lot of positive feedback about our show and it's really exciting! We're still in shock that people like us and want to listen to our stories. It's been a really great experience so far and we are looking forward to what's next for In the Service.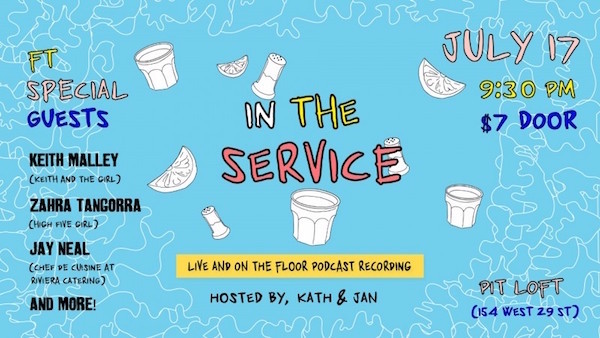 CAKE: You recently had John Zachary Townsend on an episode that addressed the support staff in a restaurant. Everyone needs to hear John's amazing impression of Mario to describe the positive attitude of a particular back of the house employee. What have been some of your most memorable moments on the podcast to date?
KATH & JAN: Yes! That was an amazing impression of Mario that John Zachary Townsend did and we have both worked with our own Mario's who have been positive and amazing. Other memorable moments come from when guests are talking about the industry passionately. When Jay Neal (CDC at Riviera Catering) was on the show, he discussed how he and his team in the kitchen are working tirelessly to create an exceptional meal for every guest. Regardless of whether the guest is a VIP, someone who strolled in off the street, or that last customer at 10:59PM, they should all receive the same quality of meal, service and experience. Zahra Tangorra (High Five Girl) talks about her passion of food, service and how we always have the opportunity to learn and improve from failure. Then of course, on another note, a memorable moment was when our guest, Audrey Stanfield talked about falling down a hatch at work on the job – truly horrific but luckily she's recovered and can laugh about it now!
CAKE: Kath, What's it like working in the industry and observing it through the eyes of a budding lawyer?
KATH: It's great! In our first episode, we told our listeners about how a restaurant is an avenue to learn and grow. I have used so many skills that I learned working in the industry on a regular basis as a lawyer. I learned how to talk to people and how to stay focused in high-stress situations. I learned how to juggle 10 (or more) things in my head at once while keeping my cool- something that is very useful in litigation. I learned how to adjust my personality to the guest in front of me depending on their body language, non-verbal cues, and their interactions with me. This too, is also very helpful in litigation when I'm confronted with posturing attorneys or when I'm speaking with a client.
On the other hand, being a lawyer behind the bar is sometimes a dangerous place to be. Everyone and their brother wants advice on every kind of legal issue, even if I'm not familiar with that particular area of law. Alternatively, it's dangerous for the guests to have me behind the bar…because you never know who is listening. When I'm bartending and I hear stories about clients and cases, and then the guest waves me down or calls me an inappropriate name, I make sure their face is burned in my brain for when I see them in court. If that's how you treated me as your bartender, I can only imagine how they will treat me as opposing counsel.
CAKE: What's the funniest thing that's happened on the job to both of you?
JAN: There have been a few times where friends have come into see me, but I've been so busy, I've walked right by them because I've been in my own world of trying to find a spoon or rushing to take an order or something. They've had to physically touch me and say, 'HI!' to get my attention.
KATH: When a table asked me, "what else do you do?" I took a minute to formulate my answer, and before hearing my answer, the head of the table exclaims, "so, you're a real waitress?!?!" The whole table immediately started laughing. I composed myself enough to tell her, "Why, yes, I am a 'real waitress'…and I'm a real lawyer, too". I left it at that, and walked away laughing at their bright red faces.
CAKE: Can you tell us a little bit about the live show happening at The PIT?
KATH & JAN: Yes! For the first time ever, we're stepping out of the studio and onto the floor. We are so excited to do the show because really we just want to see how attractive all of our listeners are in real life. Just kidding (maybe). Neither of us have done a live podcast recording before so it will be fun to see how it goes! We have a great lineup of guests: Keith Malley (Keith and the Girl Podcast), Zahra Tangorra (High Five Girl), Jay Neal (CDC of Riviera Catering), Matt DeCaro (Mostly Funny, Kind of Sad) and more! The show takes place at the PIT Loft on Monday, July 17 at 9:30 PM! Tickets are $7 and available online now or at the door day of the show: https://thepit-nyc.com/event/2017-07-17-in-the-service-podcast-live-on-the-floor
CAKE: If you had your dream restaurant environment to work in, what would it be?
KATH & JAN: What a question! Probably the 'dream restaurant environment' would be full of a staff where everyone is on the same page – wanting to take care of the guest and give them the most positive experience. When everyone is working together, guests are happy, service flows nicely and everyone is happier because no silly mistakes have been made.
CAKE: Who would you love to have on the podcast in future episodes?
KATH & JAN: There are SO many people we'd love to have on the show. Top of mind would be Dan Barber (exec chef / owner of Blue Hill), Stephanie Danler (author of Sweetbitter), Danny Meyer (Founder & Chief Executive Officer of Union Square Hospitality Group), the hosts of the podcast Invisibilia which is about the invisible forces of human behavior, and that's just the tip of the iceberg!
CAKE: As the podcast grows, what are some ideas you have for growth (i.e. venues, locations)?
KATH & JAN: We would love to continue having more live shows and eventually be part of podcast festivals so that we can increase our listener base! We're interested in the LA Podcast Festival, New York City podcast festival and of course, SXSW – it would be really great to meet and connect with other podcasts in person too!
CAKE: OK, let's hear it, what has been your favorite restaurant meal on the job?
KATH & JAN: When we worked together, the restaurant had burger mondays which was amazing! Also pizza fridays, basically anything that's not the gross mystery meat or chicken and rice for the 10,000th time.
Mentions: Get tix for the live show at The PIT NYC HERE! The PIT Loft is located at 154 W 29th St NYC, 10001. Listen to the podcast HERE! The theme song to In The Service was written for the show by Matt Decaro. Pick up his new album, Mostly Sad Kinda Funny on iTunes and Spotify.