Icing: We Talk to JONATHAN KATZ About His New Series "Dr. Katz: The Audio Files" Out on Audible NOW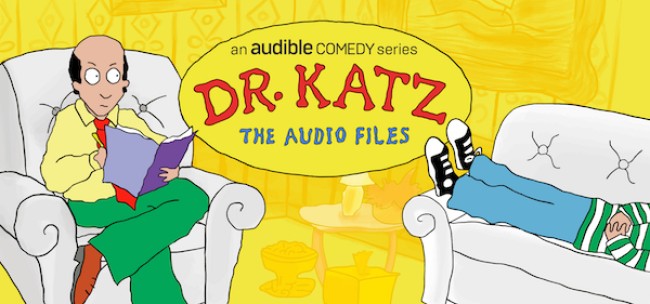 Dr. Katz: Professional Therapist, the influential animated Comedy Central series just returned to Audible Channels as a new audio-only limited series called Dr. Katz: The Audio Files. Renown for it's loose, improvised feel, off-kilter main cast, and an impressive rolodex of both established & up and coming comedic talent, Dr. Katz has left an impressive mark on the world comedy. In anticipation of his return, we talked with the doctor himself, JONATHAN KATZ, about the return of the show, the writing process, and where he'd like to see the series go.
COMEDY CAKE: What re-sparked your interest in doing another round of Dr. Katz?
JONATHAN KATZ: I missed the guy. (Dr. Katz)
CAKE: The show has always had a loose, improvised, flow to it. What is the writing process like?
KATZ: It's as you described, fictionalizing my own life and the cast (Laura Silverman, Erica Rhodes and H. Jon Benjamin) does the same. The script permits that approach especially when you're with working with only audio and a great editor.
CAKE: Was there any particular challenges with deciding to do audio only for the new season?
KATZ: No, it seemed like and seems like a great idea.
CAKE: Dr. Katz had an impressive, diverse, roster of comics; what's the casting process like/how do you balance up & comers with established comics?
KATZ: It's a combination of funny and famous. I always think funny wins.
CAKE: What's your favorite thing about this new season?
KATZ: The adulation (pathetic)
CAKE: Will Dr. Katz ever return to television?
KATZ: I don't really know.
CAKE: In doing an audio-only, radio play, version of the show, did you find you had more freedom from a comedic standpoint?
KATZ: What's tricky is remembering that there is no video to help convey the idea, luckily I am surrounded by people who remind me.
CAKE: Is there anything you'd like to do with the show that you haven't already done?
KATZ: Broadway, a feature film, a Therapy Theme Park? The theme park is for you and your therapist (emotional roller coaster, the tunnel of self loathing, mood swings for the kids…
Mentions: Episodes 1-3 are available for free for a limited time at Audible.com/DrKatz. New episodes premiere every Thursday ALL SUMMER. A special recorded live episode will feature guest stars Jon Hamm, Kristen Schaal, Jenny Slate, Al Madrigal, and Paul F. Tompkins. Other notable guests in the new series include Sarah Silverman, Ted Danson, Ray Romano, Margaret Cho, Weird Al, Maria Bamford, Pete Holmes, Dana Gould, Emo Philips, Ron Funches, Andy Kindler and more!