Icing: Have A Blast in the Past with "TV Guidance Counselor" Podcast's KEN REID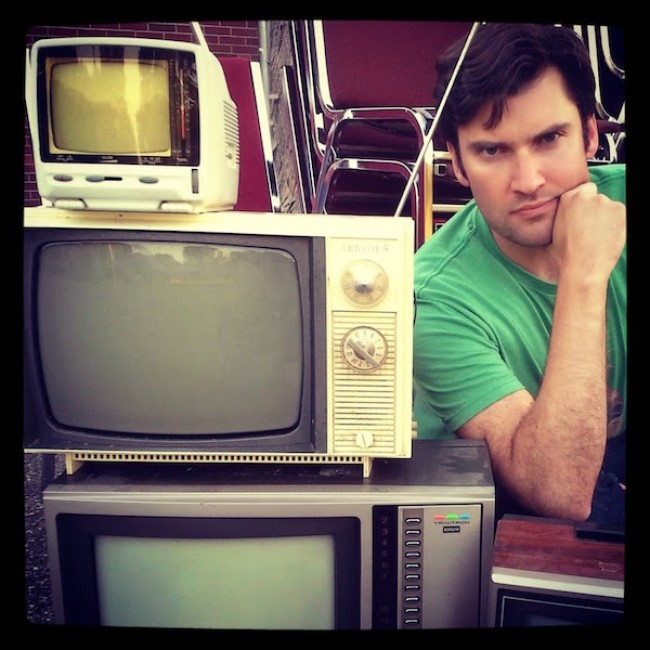 Before the Internet, it was much more difficult to compile and get your hands on information. You couldn't just type something on your phone and be instantly satiated. There was real work involved! Back then, if we needed to find out when a TV program was on, we had to sift through a digest made of actual paper. Growing up, the best place to get the entertainment news you craved was the TV Guide. The guide included a plethora of information including TV schedules, television-related news, celebrity interviews,gossip, film reviews, crossword puzzles, and, yes, even horoscopes in some issues. It just so happens, comedian KEN REID knows a thing or two about "The Guide." He has an extensive collection, spanning the 60s through the 90s, which he's incorporated into his popular podcast TV Guidance Counselor.
The podcast, launched on Valentine's Day in 2014, is like a TV Guide time capsule where notable actors, artists, writers, musicians and comics share their thoughts and TV favorites with Ken, a classic television aficionado. Most episodes, Ken and his guest will decide what they would watch on a specific date in time and talk about that choice and their favorite TV memories. Ken's list of guests is highly impressive, including names like Weird Al, Cassandra "Elvira Mistress of the Dark" Peterson, Ben Schwartz, John Hodgman, Dana Gould, Curtis Armstrong, Dan Savage, Eliza Skinner, Greg Proops, Jen Kirkman, Jonah Ray, The Monkees' Micky Dolenz, Steve Albini, and so many more. Did I mentioned Ken just recorded his 250th episode this September? We are honored to bring you our interview with this Bostonian TV braniac. You'll find yourself quickly going down that the TV rabbit hole with Ken, and never wanted to leaving. Enjoy!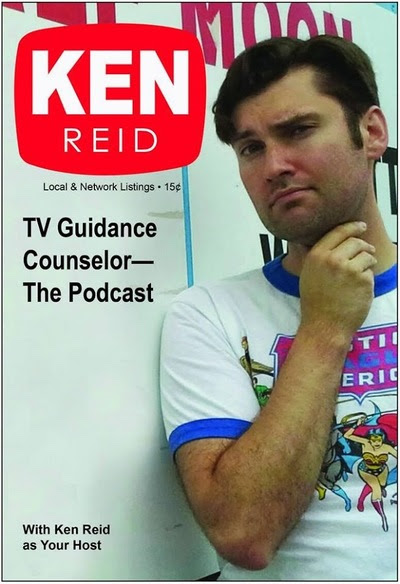 COMEDY CAKE: Do you remember how and when you acquired your first "TV Guide" publication? What fascinated you most about the digest?
KEN REID: The first issue I distinctly remember seeing was the July 11, 1981 issue, so I was a little over one years old. I don't remember why that particular issue stands out in my mind but it did have Morgan Fairchild on the cover. I started reading pretty early and aside from my Dad's Playboy magazines, which were never laying around, the TV Guide was just out and on the table so I read it and re-read it.
I think the most fascinating thing to me at that age was how much information was contained in there. I couldn't possibly watch EVERYTHING listed in there, but I could read about everything in there, which was the next best thing. As I got older it became a point of consistency in a chaotic household. It came every week, and if it said something would be on Thursday night at 9 then it was on Thursday night at 9. It gave me something to look forward to.
CAKE: Your TV and film knowledge is pretty darn encyclopedic (if kids even know what an encyclopedia is these days). Did your family help foster that sponge-like lust for information?
KEN: They certainly didn't discourage it, but were fairly perplexed by it. I was always reading and was constantly Johnny 5-ing for input. I'd be watching TV, while reading a book, and listening to the radio. I was also constantly at the public library. I read every single book they had on television or movies and the moved on to the microfiche archives of newspapers and periodicals. My parents', especially my mother, certainly encourage my trips to the library. She was a reader as well, so that was part of it, but I'm also sure that a weird, quiet little kid who is happy to dig through old newspapers is easy to satiate and it was free.
CAKE: When did you get interested in comedy? At what point did the idea for "TV Guidance Counselor" come about?
KEN: There are a few things that I don't remember ever not being interested in. Comic books, horror, and comedy. I was always drawn to it. I was a huge fan of Mad Magazine and Cracked Magazine, and enjoyed that humor, and was a massive sitcom fan. Most of my stand up inspiration, especially early on, was from sitcoms. The cadence and the type of humor. I also grew up in an age where cable TV was desperate for as much cheap content as possible so it was a buffet of stand up shows on TV and I watched them all.
Around the end of 2013, I'd been doing stand up for about 10 years, I was really a bit burnt out on straight stand up and wanted to do something interesting and different, like a podcast. The problem was I didn't have anything that wasn't being done. I certainly didn't want to throw myself on the pile of stand ups doing comedy about stand ups, and I wanted something a little more universal. I liked podcasts, but even the best ones sometimes reminded me of eavesdropping on strangers in the booth behind you at a restaurant. It was an interesting conversation, but I still felt "other" and would a much better time if I actually knew the people.
I had a large TV Guide collection and they sat in two spinning store racks in my living room. When people would come over and hang out they would often gravitate towards them and flip through. This usually sparked a lot of "oh my god! remember this show? I used to watch this!" discussions. One day my good friend, the very funny Boston comedian Sean Sullivan just bluntly said, "this is your podcast" and the format didn't really change much from that. I bought some recording gear, and starting hitting up my friends to guest.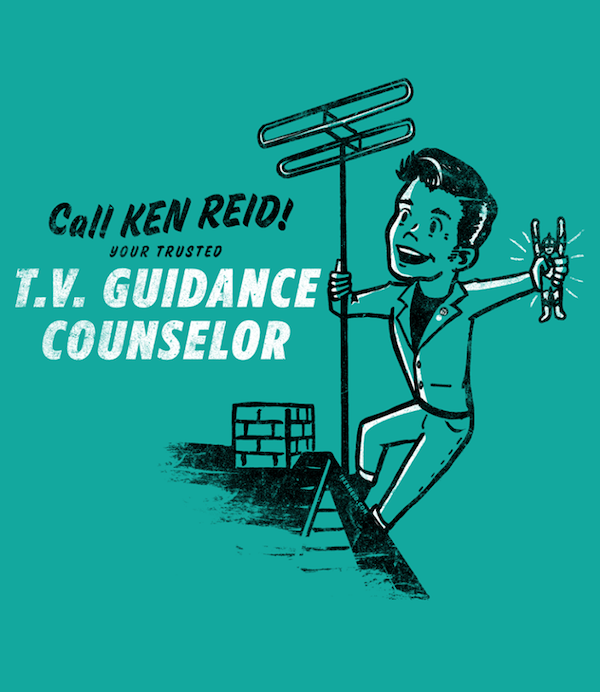 CAKE: How much time do the guests on your show usually have to pick through a "TV Guide" and plan the TV schedule they are going to discuss?
KEN: The short answer is, as much time as they need. It really varies wildly. Some people plow through it like they've been practicing for TV Scheduling Olympic trials and other people have literally taken hours.
CAKE: You've managed to book some pretty high profile guests on the podcast in just a few years of podcasting. Do you usually meet your guests first via comedy events and then hunt them down for an interview?
KEN: Initially all my guests were people I knew personally. Friends from comedy, or music (I was in a punk rock band in Boston in the 90s and met a ton of people in that world). Then it started expanding to friends of friends. As people guested on the show, they had fun and would recommend it to other people. I always try to get guests I know, at least a little bit, because the tone of the show is friendly, congenial and conversational so it helps if we're already at least acquaintances. One thing I learned about myself since doing the show is that I actually knew way more people than I ever thought I did. I never ask for favors or for comedy bookings or for showbiz help, so it pained me to ask people to guest, but I'm mostly over that.
CAKE: Who would be the "white whale" of a guest you'd like to book in a future episode?
KEN: It shifts, but there's certainly some that have been my dream guests since day 1. Bonnie Hunt is a huge one. I respect her so much and love her work and just haven't heard her discuss it enough. George Clooney is a big one. Aside from him being a movie star, he's a bit of an 80s TV Zelig. He was in EVERYTHING.
I'd also love to chat with some of the directors that really formed my love of movies, David Lynch, David Cronenberg, John Waters, those types of people.
Of course, the one I know I'll never get is Winona Ryder, but I've tried.
CAKE: Which episodes of the podcast do you think have gone to places you totally didn't expect?
KEN: Almost every episode does, I'm constantly surprised. A few that stuck out though are the episode with Janeane Garofalo. She opened up quite a bit about watching the show Family with her mother, who sadly passed away at a fairly early age. It was a really nice, real, touching moment and really illustrated the power the shared experience of television can have over those of us who grew up in the pre-internet age.
Almost all of the episodes with musicians surprise me. Hearing that Lou Barlow does his sound check singing the Greatest American Hero theme song, or that Nina Gordon from Veruca Salt bought her house because one of the writers of the Brady Bunch used to live there.
I never expect to get along as well as I do with guests. That always shocks me. When I meet people whose work I've admired my whole life, and who have inspired me and influenced me, and then we end up getting along like old friends, I never expect that.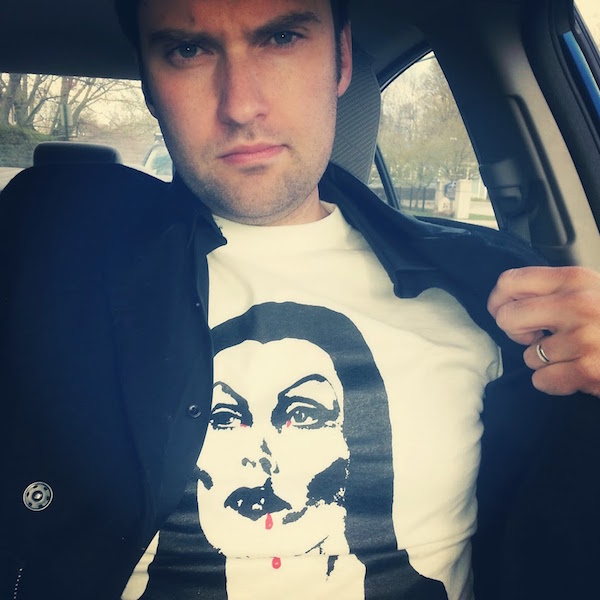 CAKE: What are some of the new TV/cable shows you are excited to watch this fall?
KEN: I'm very excited for the second half of The Tick. The Punisher also looks brutally fantastic. I'm fascinated by old Dirty Boston and The Combat Zone, which was our version of 42nd Street, so I'm excited for The Deuce.
CAKE: If, flying spaghetti monster forbid, your home were burning down, which "TV Guide" issues would you instantly grab and why?
KEN: Fall Previews are always the best bang for your buck. Almost always Double Sized and in addition to really in depth coverage of beloved shows when they premiered there's also a really interested "Road not traveled" aspect.
There's also an issue from October 27th, 1990 that is a horror issue that is one of my favorite to flip through. We went through a bit of a horror on TV boom at the time and many shows were premiering or profiled. Pouring over that issue is one of my great joys in life.
Believe or not, not only am I not walking on air, but I'm not a big autograph guy. There are people who I love, have met, and in a lot of cases have befriended who I would love an autograph from, but find it embarrassing and poor taste to ask. But I DO have an issue of TV Guide with Emmanuel Lewis on the covered signed by him. Having him on my show was mind blowing to me. He was such a staple on television during my formative years.
CAKE: One episode of TVGC I was particular drawn to was the one with comedian and writer Eliza Skinner. You kicked off the episode talking about some pretty peculiar sandwich combos. Has the mayo on grilled cheese taken off yet?
KEN: That is one of my favorite episodes. Eliza is someone I knew from doing shows with, and always liked and found to be hilarious, but getting to sit down and chat with her I realized how many common interests we had and similar growing up stories (I hope Eliza does not take this as a massive insult). Getting to sit down and chat at length with someone who I've known, but not well, for years is one of the great things for me about doing the show.
We have a place in the Boston area called Roxy's Grilled Cheese that does the mayo on the grilled cheese, but I haven't seen it done other places. I always do it because I mangle bread trying to spread butter on it.
CAKE: In that same episode, you mentioned the mind blowing fact that "Kids in the Hall's" Bruce McCulloch acted in the Canadian version of "Anne of Green Gables" and that Chris Elliott was in Michael Mann's "Manhunter." Can you think of some other comedians (not mentioned in this episode) who fall into the category of having been given dramatic roles in their careers?
KEN: Absolutely. The big ones are Tom Hanks and Robin Williams, I think people forget they both started as comedic TV actors. Same with Michael Keaton. His first TV role was on the Mary Tyler Moore Hour and he was always a straight comedic actor.
Jacob's Ladder is the jackpot for comedians in serious roles though. Jason Alexander has a part, Lewis Black and Kyle Gass from Tenacious D. It's a terrifying movie about Vietnam and Demons. You also have Alan King playing the mob boss head of "Quitters, Inc" in Stephen King's Cat's Eye and he's horrifying. I'm sure there are more but those are the ones who come to mind immediately.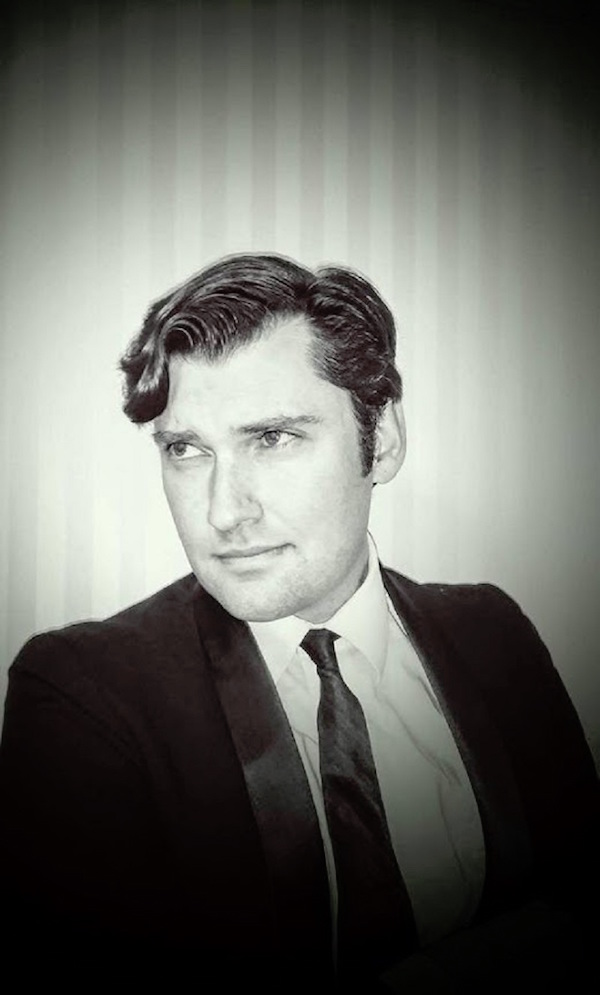 CAKE: Also in the episode (yes, I'm obsessed) you talked with Eliza about the cult TV classic, "Twin Peaks," which recently had a limited series run on Netflix. I loved how "Twin Peaks" incorporated so much comedy in it's dialogue. If you could have David Lynch on the show what "TV Guide" issue would you want him to peruse through? What would you most like to ask him about that influential series?
KEN: I LOVED the new Showtime series of Twin Peaks. It was dark, and funny, and weird and perfect. It also wasn't a reboot or a remake, it literally picked up exactly where the last series ended. I think I'm biased, but I could hear David Lynch talk about anything and enjoy it so it almost doesn't matter what issue, but I'd be curious to hear him discuss an issue from his youth, in the late 50s, or something from my youth, which would probably be an alien world to him.
CAKE: What plans do you have for the podcast in the future?
KEN: I hope to keep plugging away and getting the honor of meeting great guests. I also hope to do more live events. After doing my episode 250 live event I'd like to do more "TVGC Sleepover" shows, I just need to find a venue, maybe a monthly show. I also have some spin off series I'd like to do, including one with my wife Rachel called TV Marriage Counselor in which we discuss the marriages of famous TV Couples, A Solve for Mysteries podcast focused on Unsolved Mysteries with Sean Sullivan and maybe a music focused show.
I'd also love to do more live editions of the show at festivals. It's always great to get out and meet listeners and it's a fun, different vibe.
CAKE: Do you have any upcoming stand-up gigs you'd like to mention?
KEN: Nothing terribly noteworthy. Finances permitting I hope to do a third stand up album in 2018.
Mentions: Read the Tumblr and listen to the TV Guidance Counselor podcast HERE. Support Ken's podcast endeavor at Patreon. All images care of Ken Reid/TV Guidance Counselor.