Icing: NORTH COAST Players Megan Reilly and Rachel Rosenthal Talk Hip-Hopera & ANYBODY Caveat Residency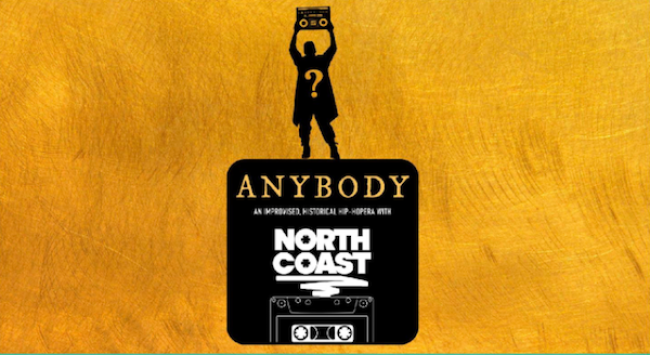 NORTH COAST's residency at the Caveat, New York's newest and undeniably unique speakeasy, is currently in full swing. The NYC improv theater team are bringing audiences weekly performances of their hip-hop musical ANYBODY throughout the month of March and you should be jazzed to check it out. ANYBODY takes the musical comedy genre to new heights by mixing freestyle rapping, comedy, and, HISTORICAL summarizations of the lives of past iconic figures. Among those figures whose lives North Coast's ANYBODY has focused on in past sold-out performances are history icons like Nikola Tesla, Louisa May Alcott, Harriet Tubman, Amelia Earhart and Frederick Douglass. With badass reputations like their's, it's quite the tall order to continuously deliver performances that blend convincing history lesson with concert level entertainment. However, North Coast has been doing just that!
The North Coast team is composed of a cast of improv comedy vets who meld their improv and acting abilities, comedic timing, and freestyle rap talents at every show. We were lucky enough to interview two members of the North Coast family, cast members Meg Reilly and Rachel Rosenthal. Reilly is a comedian, rapper, actor, and Drake lover who you may know as La Dynasty, her alter, rap-ego. Rosenthal has over 17 years of experience as a comedian and improviser. When she's not freestyle-rapping, she's performing in Off-Broadway improvised shows like Blank! The Musical, or around the country with international touring company, Big Bang, or being featured on podcast and radio shows like This American Life, Risk!, Slate's The Gist, WBUR's You're the Expert, and Myq Kaplan's Hang Out With Me. Lady power! North Coast will be giving a performance of ANYBODY TONIGHT at Caveat, with successive Thursday dates happening at 7pm. thereafter. Now take a peek inside the world of ANYBODY and learn more about the people that actually make history enjoyable.
COMEDY CAKE: So what exactly is a hip-hopera?
RACHEL ROSENTHAL: It's our twist on a musical that heavily features hip hop music and live beatboxing. Our show mixes musical genres as well – so you'll hear a Broadway-style ballad right alongside a down and dirty gangsta rap and then a sexy R&B jam. Fun, right?
MEG REILLY: More like… WHAT ISN'T A HIP-HOPERA?! This type of musical extravaganza encapsulates the energy and wildness of hip hop with the soul rearranging and thought provoking grounded nature of a Broadway show. From start to finish, the audience gets to go on a crazy, beautiful journey with the cast. Anyone who comes to see ANYBODY will leave as part of the North Coast family.
CAKE: You've already had a sold out ANYBODY show at the Caveat, what's been the best part of performing at this venue so far AND what historical cast of characters are you excited to bring to the venues audience for your March residency?
RACHEL: Caveat is an awesome new venue and all of the comedians and producers in the city are taking notice. The bar and cabaret style seating provide a totally different feeling in the room compared to previous venues we've worked with. The room can fit over 100 people, while still managing to make it feel small and intimate. Because we are all mic'd at Caveat, our sound is unique too compared to, say, our home show at The PIT, where we are not plugged in. We can experiment with that sound mix in a way that feels really fun.
MEG: I absolutely adore the Caveat and the incredible humans who have made that space what it is. When you walk through the doors, you can feel how important creativity is to the venue and it's staff. Their support and positive energy have made our time there an absolute dream and whenever I leave I look forward to when I get to go back. They curate a line up of shows that they feel push boundaries and challenge the way people think. It is an absolute honor and privilege to perform there.
We have already explored so many remarkable lives throughout history that I don't even know what we might be missing! I mean, call me crazy, but I would love to do a show about Drake. I love Drake. I am actually completely convinced that I am the woman he is going to marry.
CAKE: Were you big history buffs as school kids?
RACHEL: Not at all. History was not my best subject, honestly. But I was always interested in musicians from history. There was a "Dress as someone from History" Day in 5th grade. The room was filled with kids dressed as Martin Luther King Jr. and George Washington… and I, at 10 years old, was dressed as Carly Simon in a big floppy hat. And I had a very tiny head. You're welcome for that visual.
MEG: I was definitely more of an english and creative writing nerd but I appreciated history! Honestly, ANYBODY has brought me closer to a love for history because I find it so inspiring to dive into the life of a person who fought to make the world what it is today. We are living in the future that this person was working towards and I think it is beautiful that we get to celebrate and honor their life in a truly and uniquely North Coast way.
CAKE: What have been some of the more memorable moments bringing this unique show to New York audiences?
RACHEL: Amelia Earhart is a show we've talked about and re-lived many times. It was a very special night as we highlighted this historically brave woman from history – while in the present day, we were a few months away from a very historic Presidential election with Hillary Clinton in the running. My teammate, Douglas Widick, and I were playing "The Women of the Future" (Hillary Clinton and Maya Angelou) encouraging Amelia not to give up, as she paved the way for so many women in history. At that moment on stage, my teammate Katy (who was playing Amelia) and I looked at each other and had genuine tears in our eyes. It was a moment where we realized this show is uniquely special – it's not just a comedy show but a comedy show that get's us to reflect and to FEEL the spectrum of true human emotion. We are very proud of that.
MEG: I love that our audiences have been willing to go on this emotional journey with us. The beauty of ANYBODY is that in one moment you could be laughing until you have a six-pack and in the very next moment you could be on the verge of tears. Audiences have connected to every level of our show and it constantly reminds me of why live theater, especially the magic that is improv, is such a gift.
CAKE: What's the best part of being a North Coast performer? 
RACHEL: I love this question! I think the answer probably varies from cast member to cast member. For me personally – North Coast is a very, very large part of my NYC experience. I joined the team 7 ½ years ago, just a few weeks after moving to New York (from Boston.) Therefore, I haven't really lived in New York and NOT been on this team. The two are interconnected for me.
I've seen the group go from small indie team digging into our pockets to gather enough cash to pay for a rehearsal, to an internationally touring company. The shows themselves are a pretty large highlight as well – I absolutely love being on stage with these people. I'm proud of the shows we have created and the hard work we've put in to get us to where we are today. Plus, I love to travel – and this team has given me a lot of opportunity to do so! I consider myself very lucky to be a part of such a wonderful team.
MEG: Whenever I walk onto a stage with my North Coast family I am walking onto a stage with the most hyped and unfaltering support I have ever experienced in my life. Nothing gives me more joy than witnessing and experiencing the love that explodes all over that stage during one of our shows. We see the potential and genius in every single offer that is made and we honor that offer by giving it all we have freaking got. We see and we hear and we accept every line, rhyme, melody or dance move that is put forth into this universe and do whatever we can to make it the very best it can be.
CAKE: What past historical figures would you love to see focused on in the future?
RACHEL: I'd love to highlight more icons from musical history. Billie Holiday, Bob Marley, Sinatra… would all be incredible! Highlighting a musician gives us a gratifying opportunity to play with various musical styles spanning many different eras. It'd be incredibly fun to delve into music of the 30's while featuring Billie Holiday's life and career – as well as shine a light on what it was like to be a woman of color in the United States in that time period. In the past we got Michael Jackson and Yoko Ono as suggestions– and both shows were a blast and really allowed our amazing musical director, Jody Shelton, to show his musical chops as he weaved themes from their music into our improvised songs.
MEG: The first time we performed at Caveat we did Harriet Tubman and I played Harriet. It was a powerful and enchanting show that explored the life of Harriet through role reversals and her perspective as a woman. Though I consider myself someone who is aware of the issues in our world surrounding racism, as a white woman I do not believe that it is my story to tell. I would love to revisit Harriet Tubman and explore her world through a different perspective.
CAKE: What's been different about performing at Caveat versus the previous venues the group has performed at?
RACHEL: It's really fun to perform on the Lower East side. This neighborhood has a different energy than the locations of a lot of other NYC comedy venues… and that energy draws in crowds who have probably never seen our show before!
MEG: I so very much appreciate and feel grateful about how much Caveat has supported and cherished ANYBODY. I think this show is so special and it really helps us take it to the next level performing in a space that also sees the value and magic in this show. Caveat opened up their doors to us and made it a home for North Coast from the very first moment. I hope they know how much we adore them.
CAKE: What other shows at Caveat would you personally recommend?
RACHEL: Oh man – there are so many good ones. My friend, Chris Duffy, has recently brought his live podcast show, You're the Expert, to Caveat and it's a must-see! Also, You're Love our Musical and DED Talks are going to be winners every single time.
MEG: The Diverse As Fuck Comedy Festival is coming up at the end of March and EVERYONE should check this out. It is a outrageous celebration of diversity and talent in the NYC comedy community and you'll miss out if you miss it.
CAKE: What are some of your dream venues you'd like to perform at one day?
RACHEL: We were lucky enough to do one show at Town Hall last year (as part of David Byrne's This is Music Variety show) and I'd love to return! It's iconic and it's HUGE! New World Stages would also be pretty awesome.
MEG: I want ANYBODY on a Broadway stage. This show has guts, glory, highs, lows, magic, realism… it has everything and we demand nothing but our very best when we walk out onto that stage Our director, Jody Shelton, is a genius and playing alongside of him is a miracle. I see enormous things for this show and I'll do whatever it takes to get us there.
CAKE: What upcoming projects do you have in the works that you can divulge?
RACHEL: North Coast has our 9 Year Anniversary Show + Party coming up at Littlefield on Friday, March 16th. So far our lineup includes Aparna Nancherla, Jordan Temple and DJ Taela Naomi, who will be spinning for our dance party! North Coast also has a bunch of classes open now, and I'm teaching one of them. It's probably the most challenging and most fun class you can take and it's one of my favorite things to teach. I, personally, am working on a 2-person touring show right now that I'm very excited about! But, it's still in the beginning stages so… check back in with me in a few months!
MEG: Our 9th Anniversary Show! The line-up is insane and after the show we have a crazy dance party. Everyone should check it out!
As for me, I have an alter-rap ego named La Dynasty and I am trying to rock the world right now. I just released my latest music video, DICK-CATION, which was actually written, arranged and produced by North Coast dreamboat Douglas Widick. My next video, Spliff in the Sink, will be coming out at the end of March so keep your eyes peeled! If you want to take a look at DICK-CATION, head to La Dynasty's Facebook page!
Mentions: Get more information about intellectual nightlife hotspot Caveat and upcoming ANYBODY performances HERE. Learn more about North Coast and their performance schedule HERE.