Video Licks: The Founding Fathers Have Some Daddy Issues to Discuss in WE ARE THOMASSE's Latest Sketch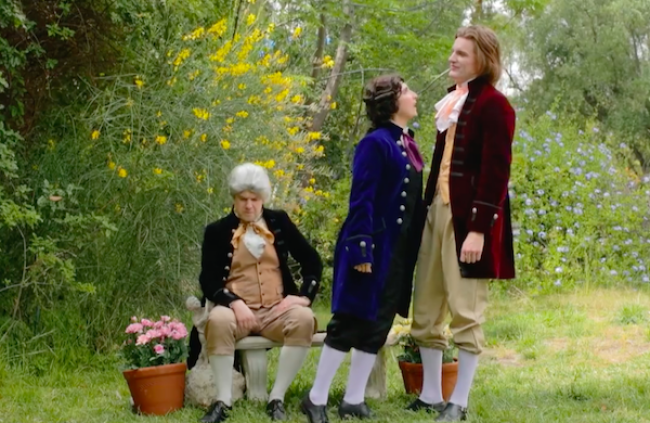 Shouldn't we celebrate fathers every day of the year? Absolutely. Taking up the spirit, we give thanks to America's 'Founding Fathers' with this new video from WE ARE THOMASSE featuring Washington, Adams, and Jefferson figuring out who the *real* papa of this great nation is. Please do enjoy Happy (Founding) Father's Day!
Happy (Founding) Father's Day! (by We Are Thomasse)

Happy Father's Day!
There are many Founding Fathers… but who's America's *real* daddy?

HAPPY (FOUNDING) FATHER'S DAY

Written by: Nick Afka Thomas and Sarah Ann Masse
Starring: Nick Afka Thomas, Sarah Ann Masse and Jj Dunlap
Director/DP: Ed Ballart
Sound: Chris Hruby
HMU: Davina Dawn Galovich
Editor: Keven Pelon
Produced by: Zonino Productions & We Are Thomasse (Sarah Ann Thomas)

Special Thanks to Elise Falanga and Chris Taylor

www.wearethomasse.com
Twitter: @WeAreThomasse
Facebook: facebook.com/wearethomasse
Instagram: @WeAreThomasse
Patreon: patreon.com/wearethomasse
Email List: subscribe.wearethomasse.com
#HappyFathersDay #FathersDay #LoveYouDad

Posted by We Are Thomasse on Friday, June 15, 2018
Mentions: We Are Thomasse is the married comedy duo of Nick Afka Thomas and Sarah Ann Masse. Learn more about them and watch more vids HERE. This sketch was written by Nick Afka Thomas and Sarah Ann Masse, and stars Thomas, Masse and Jj Dunlap.