Icing: Talking to Comedian FRANCIS CRONIN before He Embarks on His ROUGH SET Journey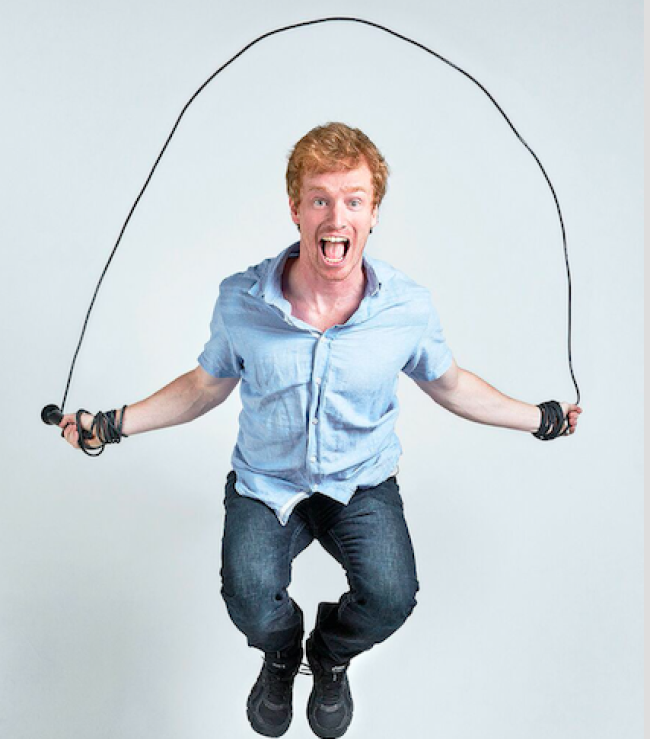 Having a good set under the best of conditions is already one of the most challenging tests for a comedian. Now when you add the elements, physical fatigue, and the pressure of raising awareness for charity, the stakes are raised to almost impossible levels. Of course, all that won't deter stand-up comedian Francis Cronin (Fox's Laughs, HBO's Starter Pack) from his ROUGH SET goal, kids! This weekend (December 15 to be exact) the former Irish army officer sets off on a 500 mile walk from San Francisco to Los Angeles with only a backup, waterproof sleeping-bag, and a smile. His goal is to raise awareness for Homeless Health Care Los Angeles, as well as preserve the journey for posterity in the form of a pilot. Cronin has been training for the epic journey for over 6 months. Co-produced by LA's coolest comedy club Dynasty Typewriter, the comedian will be performing stand-up and storytelling through the journey, which kicks off with Cronin crossing The Golden Gate Bridge and having a glorious comedy evening with Dana Gould at the SF Punchline. Cronin has invited fans & celebs to join him on his journey. In hopes of bringing more focus on the plight of the homeless, Cronin will be producing daily events, videos and podcasts, in addition to interviewing notable entertainment figures like comedy god Dana Carvey. The epic month-long trek concludes at LA's Dynasty Typewriter where the club will host a giant sleepover for Cronin to share his amazing stories from the adventure. Now read what the undeniably brave comedian has to say about his upcoming journey!
COMEDY CAKE: What inspired you to come up with the idea for "Rough Set?" When and how did Dynasty Typewrite get involved?
FRANCIS CRONIN: I've always wanted to wander the Earth unbridled by the everyday trappings of modern living. Most people I've talked to have too. It's like an innate drive. I just decided to go too far, ha! Rough Set basically caters to every aspect of my soul. I love performing standup comedy. I love adventure. I love hard physical challenges and I love meeting people. Trying to fit into Hollywood is a dangerous endeavor because you can stray away from who you truly are. In Rough Set I get to do everything I love and do a little good for Homeless Health Care Los Angeles along the way. I've had friends and relatives who have fallen on hard times and ended up living on the streets. So directing the attention and money towards people in need while doing what I love is a win win. I've been hosting at Dynasty Typewriter for a few months, and they and I share a similar vibe. We all love to connect. When I mentioned my idea they immediately jumped on board and gave it their full support. Jamie Flam and Vanessa Ragland are wonderfully generous and empathetic souls.
CAKE: How has your former military career prepared you for your upcoming journey?
CRONIN: I've spend a lot of time in the mountains of Ireland wandering around like a mountain goat and in the jungles of Liberia, West Africa as part of the United Nations Quick Reaction Force. I've slept in the pouring rain, many times living in a ditch that I dug that same day. So I guess i'm hoping that fingers crossed that I can do this journey without falling foul to the elements. I also met so many great people of all walks of life while in the military, so I think when it comes to the conversational side of this whole production I will be able to make great flowing conversation with every human I meet. The physical and the mental are there. The unknown is the only thing that has on occasion been keeping me up at night.
CAKE: Have friends been putting bets on whether you can survive the 500 mile journey?
CRONIN: Not too my knowledge, but if I make it and you bet against me, I want half that money to go to Homeless Healthcare Los Angeles. Actually, come to think of it one friend did borrow a score from me and said he'd give it to me when I get back. Perhaps the animal is praying for my demise.
CAKE: What is Ireland saying about this trip?
CRONIN: I've heard only positive things. I had a fun interview with Cormac Moore on Dublin's FM104 and from the reaction to that interview it seems like we are going to have a lot of people following along to see if I make it alive. Also, I just did an interview with the national newspaper The Irish Independent, that hits the news stands this week so it'll be interesting to see how Ireland reacts once that goes out. We tend to enjoy watching someone overcome adversity and come out clean on the other side.
CAKE: What have you done to prepare for the challenge to date?
CRONIN: I've been doing a lot of HIIT training to increase my cardio and a lot of miles walking to toughen up my feet. I think i've lost about 15 pounds. I figured that the more I lose the less I have to carry every second of the way. So in essence, it seems I lost weight because I'm lazy. Interesting. A lot of the work has been trying to select the most interesting route between SF and LA and trying to think of exactly what I want to document and what I want to share. It's actually called Rough Set because I want to keep it as loose and organic as possible not too over planned. It's also called Rough Set because of the connotations of sleeping rough and having a tough comedy set.
CAKE: What's the longest comedy tour you were ever on? Any stories there you can share that might have prepare you for this epic trek?
CRONIN: I've been lucky enough to tour most of the US's major cities. But that was flying in and out and staying in hotels. The most was a week at a time, so this is by far the most extreme tour I have ever undertaken. As I share this I realize this may be the most idiotic thing I have ever done. Fantastic!
CAKE: What will be the most challenging part of this charity trip, the outdoor element or performing comedy live?
CRONIN: That's a real toss up because I want to make sure I write some incredible material along the way for the next tour and creating new material can be mentally challenging, but sometimes the funniest stuff comes from pain and suffering and the mind's desire to alleviate it. So maybe the writing will be a cake walk because the physical is so painful. Who am I kidding? The whole thing is going to be ridiculously challenging. Although, I know if I do it for a cause bigger than myself I will make it. Isn't that what they say in those self-help books!? Really though I'll be doing my best to stay injury free and away from hypothermia. I would prefer to die on stage than dying of hypothermia. The sad thing is that homeless people face this battle with the elements daily.
CAKE: Can you divulge who you've secured for celeb interviews?
CRONIN: No. You gotta watch silly. But, I can share that the hilarious Dana Gould, who I have actually never met, is kindly letting me drop in on his show at the Punchline in San Francisco on the first day. And that, my friends, is only the beginning. That is the kind of generosity I've been experiencing when I ask people for their help and support.
CAKE: You have a GoFundMe campaign going to raise funds for a pilot of the journey. Who will you be pitching said pilot to?
CRONIN: We've raised almost $3000 out of our goal of $10,000 for production and post production in just 10 days. That feels great but it's not enough cash to make a production worthy of what we are trying to produce. This money is going towards remote editors and cinematographers John Rey and Brian Wriggle who will be meeting me at various way points to document the journey. In terms of 'where the project will live' I'm open to everything. I've had meetings with everyone from Reality TV producers to studio executives. Luckily, the reception at these meetings has been overwhelmingly positive and excited so right now I'm going to shoot the pilot/high end sizzle and worry about selling it when I get home.
CAKE: I understand you've secured some interesting experiences along the way, like a cruise in some exotic cars and a private plane excursion. How did that come about?
CRONIN: Rough Set is designed to be an in-the-moment collaboration. Anybody can offer a cool event for us to document or a place for me to perform. If it makes sense and sounds fun I'll do it. Within 24 hours of posting this online people started coming out of the woodwork wanting to collaborate and have fun. It really was as easy as that. People like to share their lives with people I guess. I'm actually excited to see what else comes up organically along the way.
CAKE: What parts of the trip are you looking forward to the most?
CRONIN: I love the zen feeling you get when you have been walking for a long period of time. I think being out alone with my thoughts and nothing but my thoughts is going to be a beautiful thing.
CAKE: What message do you hope to put out in the world with "Rough Set?"
CRONIN: The world is your playground and if you play well with others everybody can have a great time.
Mentions: Follow Francis on Instagram, Twitter, & Facebook. Learn more about the GoFundMe campaign HERE!