Quick Dish NY: This Thursday 6.13 Don't Miss AMERICA'S NEXT TOP CULT at Caveat
In this instant information age, you can't help but stumble upon a plethora of creepy cults that have both intrigued our imaginations and scared us silly. Kids, sometimes a group of folks get together with a common goal that turns out to be a total disaster of a idea. Cough, Rajneeshpuram, double cough Jim Jones' Peoples Temple, triple cough, Aum Shinrikyo, & quadruple cough Manson Family! Gulp. In a new live comedy game show at Caveat called AMERICA'S NEXT TOP CULT, the audience will be presented with four cults concocted by NY's funniest comics. Yes, it's American Idol takes on Wild Wild Country and this time there's no way they are starting a following, right?! This , comedians and wannabe cult leaders will include:
Lorelei Ramirez (Adult Swim)
CJ Hunt (MTV, Comedy Central)
Maria Wojciechowski (Comedywire)
Chuck Armstrong (Funny or Die, The Onion)
PLUS
your Katy Perry, Luke Bryan and Lionel Richie judge clones, I mean, featured panelists:
Courtney Fearrington
Julie Bootleg Poptart Mitchell
Hosted by James Hamilton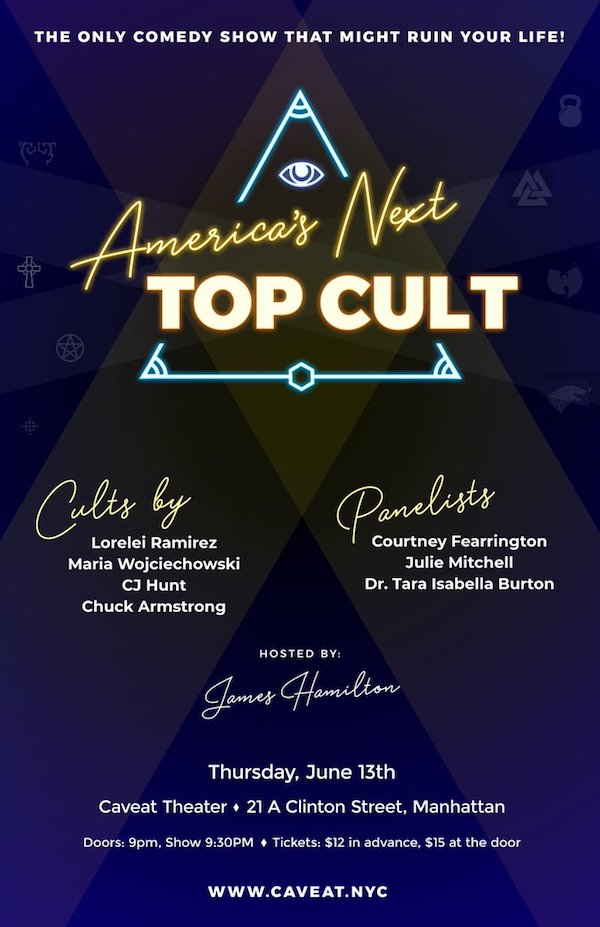 In addition to these funny folks, there will be a special guest expert in religious studies (Dr. Tara Isabella Burton – CrossFit is my Church) to spoil the fun (j/k!), I mean lend some sage "perspective and context" to this night of sheer madness. Won't you join in the brainwashing? "The Force can have a strong influence on the weak-minded." Yeah, I went there, GO!
Mentions: Show 9pm. Tickets HERE. Caveat is located at 21 A Clinton Street, Manhattan (212)228-2100.